Safety, Shale, Midstream Construction Discussed At Pipeline Opportunities Conference
The seventh annual Pipeline Opportunities Conference, presented by Pipeline & Gas Journal and the Interstate Natural Gas Association of America (INGAA), was held April 19 at the Intercontinental Hotel in Houston. The event drew more than 400 attendees who came to hear 16 key industry executives discuss activities and issues related to today's challenges for U.S. oil and gas pipelines. Pipeline safety was also a considerable focus of this year's program along with an Alaskan Natural Gas Pipeline update and a session on new pipeline construction opportunities.

In the opening session, Peter Lidiak, pipeline director at the American Petroleum Institute, gave an upbeat overview of the liquids pipeline industry's pronounced decline in pipeline spills and causes from 2007–2009. He also shared data that reflected a dramatic improvement in the liquids pipeline industry's onshore spill record and illustrated the fact that releases were down for every major failure cause.
The API official was quick to point out that while the numbers are good and show improvement, they're not good enough. Lidiak said, "We're working to see what more can be done to achieve no releases to the environment and no fatalities or injuries, while providing reliable service to shippers, customers and communities."
In outlining some of the spill causes, Lidiak noted that third-party damage has dropped by two-thirds. "This is good to see," he said, "not because it accounts for the highest number of spills, because it doesn't."
Instead, he noted, that while third-party damage accounted for only about 7 percent of all excavation damage incidents, it caused most of the injuries and deaths that occur.
Other highlights of the session included a presentation by NACE President Oliver Moghissi Ph.D. who discussed the communication gap between corrosion specialists and corporate decision makers. He said most corporate decision makers understand financial risk but typically lack information to optimize corrosion management. Nevertheless, he said most assets are safely operated and well-preserved.
INGAA projections
INGAA Foundation Executive Director Richard Hoffmann explained the group's commitment to safe and reliable pipeline operations. He included a compelling perspective on infrastructure projections through 2035 from a soon-to-be released update to the Foundation's 2009 infrastructure study.
The report, prepared by ICF International, evaluates a host of issues ranging from U.S. economic growth to trends and statistics for shale gas.
Hoffmann used the two accompanying slides to illustrate incremental infrastructure additions and related costs.
Following are projected midstream infrastructure developments and expenditures through 2035 from the forthcoming report:
• Approximately 50 Bcf/d of new transmission capability;
• Approximately 1,400 miles per year of new mainline capacity;
• Approximately 500 miles per year of new laterals to/from power plants, processing facilities and storage fields;
• Approximately 14,000 miles per year of new gathering lines;
• Just over 1 Bcf/yr of new processing capability;
• Almost 25 Bcf/yr of new working gas capacity; and
• About 120,000 hp/yr for pipeline compression.
As to costs, the expenditures for the incremental infrastructure projected are significant:
• Over $250 billion or about $10 billion per year of total capital expenditures are required over the next 25 years;
• Half of this amount, or $125 billion, is required for new or expanded mainline capacity;
• $1.5 billion per year for laterals;
• $2 billion per year for gathering lines; and
• $1billion per year for processing plants.
Pipeline compression and storage fields account for the remainder of the capital requirement.
Alaska Pipeline
In the Alaska Natural Gas Pipeline session, Larry Persily, federal coordinator, Alaska Natural Gas Transportation Projects, provided an overview of the TransCanada-ExxonMobil proposal to construct the 1,715-mile Alaska Natural Gas Pipeline* from the North Slope gas fields down the Alaska Highway to an existing pipeline network in Alberta, Canada.
Persily pointed out that although TransCanada-ExxonMobil held an open season last year, no information had been released on any bids received. He noted that the planned project is not your typical pipeline. "Although lots of miles of pipe have been built and are being built throughout North America, this would be the largest," he said. "It would be 48 inches in diameter, with one-inch thick walls and more than 1,700 miles long."
As to the latest timeline, Persily said if everything goes well, the first gas could flow in late 2020. This timeline is based on construction starting in 2016.
"Even if we're a little skeptical about the economics," he said, "it is possible."
Following next was Wood Mackenzie's Edward Kelly, vice president, North American Gas and Power, who discussed market conditions as they are today and what they are predicted to be in the 2020-2030 timeframe when the Alaska Natural Gas Pipeline is scheduled to be completed.
Luncheon keynote speaker Bruce Henning, vice president, Regulatory and Market Analysis, ICF International, offered an enlightened perspective on the abundance of natural gas and the many opportunities it offers.
Shale plays
In the day's final session, speakers turned their attention to activity in the prolific shale plays around the nation and spending for gathering, processing, storage and pipeline developments.
ONEOK's President of Natural Gas Gathering and Processing, David Scharf, offered an extensive overview of his company's activities in the Bakken Shale along with a summary of the company's footprint in the Williston Basin and some of the challenges faced in designing and operating facilities in that area as well.
Scharf said the Bakken is a very interesting shale play and "as the area's largest independent processor and gatherer, we're in a strong position to provide midstream capabilities and infrastructure.
Although the Bakken is known as purely a crude oil-driven play, he said there is also a fair amount of associated gas. "While this is a relatively small gas play, ONEOK is spending $1.6 billion in projects to accommodate just the gas in this basin alone."
"With 90 percent of the value of the Bakken Shale reserves being crude oil," he said, "the economics of drilling these wells is extremely strong. So much so, that wells are drilled and completed even with no place for the gas to go but be flared.
"Of course," he said, "this is a terrible waste and ONEOK is working hard and spending a lot of capital to put those flares out as soon as possible. We've already expanded our Grasslands plant from about 55 MMcf/d to 100 MMcf/d. When we started that project we were running about 40 MMcf/d of significantly leaner gas through that plant and we thought we would have room for several years."
However, when things took off on the gathering and processing side last year ONEOK invested $1 billion for a 300 MMcf/d plant that will quadruple its processing capacity in the basin."We're also adding compression, pipelines expansions and upgrades," he said. "Conservatively we'll probably put in 600 miles of new pipelines this year. These projects are primarily backed by acreage dedications."
On the NGL side, Scharf said another $700 million is being dedicated to construct a 500+ mile, 50,000-bpd NGL pipeline from the Williston Basin to the Overland Pass Pipeline, of which ONEOK owns 50 percent. Plans call for an expansion of the Overland Pass Pipeline to 255,000 bpd and increasing capacity of the company's Bushton fractionator by 50,000 bpd.
"Despite the challenges and risks of doing business in the Bakken, there really is no other play we think is better. It is driven by crude oil prices which seem to be holding up very nicely and we're very pleased to be here with the extensive systems and resources that we have," Scharf said.
Northeast expansion
Spectra Energy's Business Director Greg Crisp described his company's plans for pipeline construction over the last few years and into the future. After noting that the period 2007-2010 was one of phenomenal growth for his company, Crisp said that since 2007, $4 billion had been spent on capital expansion projects in North America.
He said, "That equates to about $1 billion a year and over the next five years we plan to spend an additional $5 billion, keeping up the pace of our $1 billion per year investment through 2015."
In discussing investments totaling $3.7 billion in expansions under execution, Crisp shared the accompanying slide that listed 10 projects with in-service dates from 2011–2013.
He indicated that to maintain its $1 billion per year investment, the 10 strategic expansions shown here offered growth opportunities and a continuation of that type investment through 2015.
Crisp noted that a big focus of his company's spending program was in the Northeast where three pipeline projects totaling $1.8 billion are under way: The TEMAX/Time II, TEAM 2012 and the New Jersey/New York Expansion.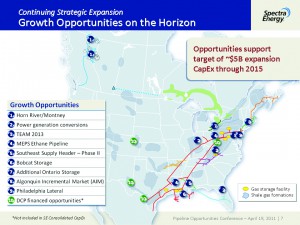 As to what's ahead, the Spectra executive said a couple of things were in place from the Marcellus Shale standpoint and the company is looking into construction of an ethane pipeline project from the Northeast back to the Gulf Coast and recently completed an open season to expand the Algonquin Pipeline.
Also in the session, DCP Midstream LLC's Richard Cargile, president, Southern Business Unit, overviewed his company's spending and growth plans.
Cargile started by noting that DCP Midstream had a good foot print in every one of the nation's shale plays except the Bakken and Marcellus. "That includes the Eagle Ford Shale in South Texas," he said. "Because of our diverse footprint and when gas prices were at $10+ per MMBtu there was a lot of activity in the Barnett and Haynesville Shale plays and we've benefitted from that. Now that gas prices are down to $3 to $4 per MMBtu and oil is $100 or more a barrel, everyone is chasing the oil shale in the Eagle Ford and Avalon, which has been beneficial for us as well."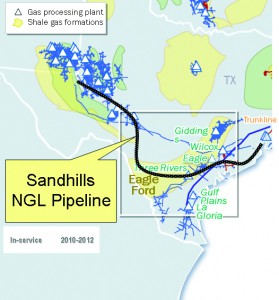 Continuing, he said, "With our footprint we're right on top of these shale plays and our plan is to step out and extend our footprint and integrate our systems into what we are calling super systems."
Cargile explained that they planned to take five, six or seven plants and integrate them together to provide both flexibility and reliability. "Then we'll move on to our new build of plants and pipelines."
He said several hundred miles of large diameter pipe (16, 20 and 24-inch) was being constructed to gather gas supplies and integrate plants to provide operational reliability and flexibility and access to various markets.
Certainly significant is the Sandhills Pipeline project that DCP Midstream and West Texas LPG Pipeline LP (WTLPG) plan to construct to serve the NGL transportation needs of gas processing plants and shippers in West Texas and South Texas, including DCP gas plants and a new 200 MMcf/d DCP gas plant designed to serve Eagle Ford shale gas development. The 700-mile Sandhills Pipeline system will transport Y-grade NGLs from gas plants in the Permian Basin and South Texas to the various fractionator facilities along the Gulf Coast along with the Mont Belvieu, TX NGL hub.
The two companies are coordinating these projects toward a first half 2013 commencement of operations.
Barnett
The final speaker in the session, Michael J. Garberding, senior vice president, business development and finance for Crosstex Energy, spent his time discussing In describing what Crosstex has done to grow in the Barnett, including the March 2011 completion of the Fossil Creek and Benbrook projects.
Of these, Garberding noted that the Benbrook project expanded the Partnership's natural gas gathering system in North Texas with the construction of a $25 million, 15-mile pipeline extension to serve major Barnett Shale producers. It included a seven-mile low-pressure pipeline, an eight-mile high-pressure pipeline and a compressor station in southwest Tarrant County that provides customers with greater takeaway capacity to accommodate their transportation requirements. The peak flow rate of the new gathering system in 2012 is anticipated to be more than 100 MMcf/d of processable gas.
Referring to Benbrook and Fossil Creek as "bolt-on" projects, he said, "What we've been able to do is work with the producers, adding compression and regional gathering into our mainline system and optimize our processing and take away and provide really good projects for both the producers and Crosstex."
* Editor's Note: Shortly after the Pipeline Opportunities Conference, the Denali Alaska Natural Gas Pipeline project planned by BP and Conoco Phillips was cancelled and is not discussed in this article.

Related Articles