Whats New In Corrosion Control Products
What's new in Corrosion Control from Rosen, Henkels & McCoy, International Paint Protective Coatings, NACE, Denso North America, NDT Systems, TechCorr, Mesa Corrosion Control, MATCOR, Farwest Corrosion Control, GE Sensing & Inspection and more.

ROSEN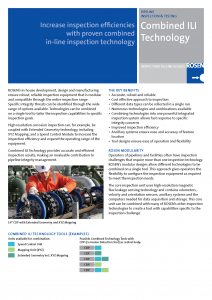 Rosen offers a brochure on its website. In a section entitled "Rosen modularity" the brochure observes that pipeline operators often have inspection challenges requiring more than one inspection technology. The company's modular designs allow different technologies to be combined on a single tool. The core inspection unit uses high-resolution magnetic flux leakage sensing technology and contains odometers, velocity and orientation sensors, ancillary systems and the computers needed for data acquisition and storage. This core unit can be combined with many of Rosen's other inspection technologies to create a tool with capabilities specific to the inspection challenge. www.RosenInspection.net.
Henkels & McCoy
Among the many services offered to the pipeline industry by Henkels & McCoy is pipeline integrity and corrosion control. The company offers a brochure concerning its pipeline services on its website and devotes a section to its midstream services in the pipeline and natural gas segment, including transmission engineering and design, transmission pipeline construction, transmission pipeline anomaly repair, integrity management survey, tie-in construction, complete compressor station construction and maintenance, meter and regulator stations, SCADA and control systems, pipeline integrity and corrosion control, launcher and receiver fabrication, pipeline re-coating, valve installation and replacement, directional drilling, river and bridge crossings, emergency management and response teams, pipe insertion, federal relocation projects, and operator qualification management and consultation. 405-253-3700, 888-436-5357, www.henkels.com.
International Paint Protective Coatings
International Paint Protective Coatings offers CEILCOTE® 600HB Flakeline, described as a two-component, high-build, glass-flake reinforced epoxy system that provides improved chemical resistance to alkalis, inorganic acids and many aromatic and aliphatic solvents. The system was developed to help tanks and process vessels become more cost-effective, providing long-lasting corrosion protection that is easier to install and requiring fewer man-hours to apply. This reduces downtime while providing an extended service life through optimum corrosion control. Designed to be spray-applied in a single coat at a thickness of 30-50+ mils DFT, often without a primer, Ceilcote 600HB Flakeline is said to save on application costs. It also eliminates the potential for intercoat adhesion problems compared with multiple coat or trowel-applied systems. International Paint Protective Coatings and Ceilcote came together in 2007 to offer a full range of products. 800-525-6824, www.international-pc.com, www.ceilcotecc.com.

NACE International
NACE International, The Corrosion Society, has released its newest training course, Internal Corrosion for Pipelines – Advanced, designed for those responsible for the implementation, maintenance, and management of an internal corrosion-control program for pipelines. The course aims to provide students techniques and strategies to implement, monitor, maintain, and manage an internal corrosion-control program as part of an overall Pipeline Integrity Management program. Data interpretation, analysis, and integration, as well as criteria for determining corrective action for internal corrosion problems within pipelines, are covered in the five-day course. According to Tim Bieri of BP Exploration Alaska, one of several experts involved with the course's development, "It became obvious some years ago that there was an industry gap with regards to internal corrosion management. Further, there was nowhere to turn for training." 281-228-6200, http://web.nace.org/departments/education/programs.aspx.
Denso North America
Denso North America recently announced its newest coating product, Protal 7300. The company said the Protal 7300 coating has been created especially for the exterior coating of pipelines, structures or other steel surfaces that may be wet or damp due to the weather or environmental conditions. It is described as VOC- free, 100% solids epoxy coating specially formulated to coat dry, damp or wet surfaces. It is a high build liquid coating that can be applied in one coat either in the field or shop with a Denso Protal Applicator Pad, roller or brush. It can be applied at temperatures ranging from 41°F to 150°F. The recommended application thickness is 30 mils. Protal 7300 is available in both one liter and one gallon kits. Denso has offices throughout the World and is a wholly owned subsidiary of Winn & Coales International originally established in London, England in 1883. 281-821-3355, www.densona.com.
NDT Systems, Inc.
NDT Systems, Inc., a manufacturer of ultrasonic test equipment, introduced the RAPTOR UIFD1 handheld Ultrasonic Imaging Flaw Detector. It is said to combine a state-of-the-art hand-held Flaw Detector with a fully capable imaging system. Incorporating three 32-bit microprocessors and external storage of up to 8 GB utilizing a removable SD Flash Card, its ultrasonic features include a spike and squarewave pulser, rep rates from 10 Hz to 5 KHz auto and manually adjustable, full tuned filtering, five damping levels, DAC, RF/+/-/FW rectification, filled/hollow display, IP and IF Gating, IP or IF Sync, (+to+), (+to-), (-to+) and (–to-) triggering, Peak Echo Hold, Weld Trig and more. 714-893-2438, mention P&GJ, www.ndtsystems.com.
TechCorr
TechCorr's website describes it as a leading materials-corrosion engineering, inspection and non-destructive testing company with more than 300 highly skilled employees dispatched from more than 15 locations worldwide. For more than a decade, engineering, inspection and non-destructive testing has been provided to the pipeline, oil and gas and other industries. The company says it is highly experienced in providing conventional non-destructive testing services, advanced non-destructive testing services and specialty inspection services. Expertise in, among others, the areas of pipeline construction (conventional radiography, portable radiography, X-ray pipeline crawlers, automated ultrasonics AUT – girth weld, certified welding inspectors and asset integrity management); pipeline integrity (close interval potential survey, direct current voltage gradient survey, pipeline current attenuation survey, pipeline depth of cover and survey, pipeline right-of-way GPS survey, pH soil analysis and continuous resistivity surveys, chemical and mechanical pipeline cleaning, MFL inline inspection tools and deformation/caliper tools). 713-524-2768, www.techcorr.com.
Mesa Corrosion Control, Inc.
Mesa's website offers a comprehensive range of cathodic protection services including engineering, pipeline integrity, installation and technical services. The company's experience includes cathodic protection applications for pipelines, distribution systems, above-ground storage tanks, underground storage tanks, well casings, power generation, refineries and water treatment. The company's engineers and technicians are capable of creating fully customized cathodic protection investigation and design plans, including corrosion surveys, data acquisition, testing, analysis, remediation and system design. Field technical services include specialized surveys such as soil resistivity, pipe-to-soil potential, close interval coating evaluation (DCVG and ACVG), current requirement and interference tests. 918-627-3188, sales@mesaproducts.com, www.mesaproducts.com.
MATCOR, Inc.


On its website, MATCOR, Inc. includes what it calls the pipeline industry's first engineered AC mitigation grounding system, combining what is described as superior AC grounding performance with greater ease of installation and lower overall cost. The product is intended for use in pipeline AC mitigation applications. Placed parallel to pipelines in high-voltage AC transmission corridors, the MITIGATOR™ is said to provide an easily installed, cost-effective drain for induced AC current being picked up along the pipeline. Some advantages listed include a complete integrated grounding system with a copper conductor in a fabric tube machine-packed with corrosion inhibiting backfill designed for grounding systems; 433% more surface area than bare 2/0 copper cable; significantly lower system impedance; and a 19 strand #2 bare copper cable for enhanced flexibility and ease of installation. 800-523-6692, matcosales@matcor.com, www.matcor.com.
Farwest Corrosion Control Co.
Farwest Corrosion Control's Cash for Clunkers promotion for aging cathodic protection rectifiers will expire March 31. The promotion allows owners of old rectifiers to replace those units, no matter what their condition, with new models of their choice and receive up to $250 cash toward each new rectifier purchase. To qualify, buyers must send a photo or nameplate of their old rectifier to Farwest. 310-532-9524, 888-532-7937, www.farwestcorrosion.com.
GE Sensing & Inspection Technologies


GE Sensing & Inspection Technologies has announced the new Phasor CV/DM, said to be the first phased array inspection device for corrosion spot identification in the marketplace. GE says corrosion spots are small, isolated areas where corrosion has reduced a pipe's wall thickness and can compromise its ability to safely hold pressure and its contents. Part of GE's field-proven phased array family, the Phasor CV/DM provides extensive inspection coverage with every scan, and even the smallest corrosion pit can be identified, measured and evaluated. Concurrently, inspection times are significantly reduced. The device has application in oil and gas and other sectors. GE's Phasor CV/DM software comprehensively displays inspection data, optimizing the potential of the specially developed multi-element phased array probe. www.gesensinginspection.com.
IRT Integrated Rectifier Technologies, Inc.
IRT says safety should always be a priority. Operators and owners can now minimize risk of accidental contact of exposed components/hardware with enhanced safety features incorporated into the IRT rectifier product. According to IRT, Tap Switch adjustment is a safe alternate to tap bar or terminal adjustment. Switches also eliminate the possibility of loose connection problems following output setting adjustment. Dead Front Fuse Holders are fully shrouded and designed with an easy grip handle for safe withdrawal or insertion of the fuse. The Fuse Holders' fully plated contacts offer low resistance and cool running operation. The GFI Receptacle provides on-board AC power access/availability using an approved GFI receptacle device. Touch-Safe Lexan barriers offer built-in entry protection with no cumbersome nuts or bolts required for attachment. The barrier is lightweight and virtually unbreakable. Rectifier Interruption Ports/Terminals are included that allow for safe and easy access for AC interruption of the rectifier without having to disconnect any rectifier wiring. Ken Roth, 780-447-1114, www.irtrectifier.com.
Inline Services, Inc.


Inline Services, Inc. introduces its new Pit Cleaning PigTM featuring corrosion-fighting pencil brushes designed to clean pits untouched by flat wire bristle brushes. The brushes can also effectively remove black powder. Mounted on the same mandrel pig as conventional brushes, both the surface of the pipe and the pits are cleaned during a single pig run. Pit-cleaning brushes can be retrofitted to any existing mandrel pigs. 888-973-0079, www.inlineservices.com, sales@inlineservices.com.