Future Role Of Natural Gas And Shale Revolution Dominate At P&GJs 2010 Pipeline Opportunities Conference
Pipeline & Gas Journal, in partnership with the Interstate Natural Gas Association of America (INGAA), presented its sixth annual Pipeline Opportunities Conference on March 31 in Houston. Jeff Share, conference founder and organizer, said the single-day event drew more than 500 attendees at the George R. Brown Convention Center for the third consecutive year, attesting to the intense interest in the pipeline industry.

Conference topics included an Alaskan Natural Gas Pipeline Update, Pipeline Prospects for 2010 and Beyond, the Shale Gas Revolution and Expanding Pipeline Infrastructure to tap into new supply sources. There was also an intensive look at the role of natural gas for the generation of electricity, and how its many applications can serve to decrease harmful pollution levels from all sectors, particularly when used together with or replacing other fossil fuels.
"Sometimes it seems like we're repeating ourselves, but this year leaves no doubt that there is unprecedented interest in natural gas, especially in North America," Share said.
"The Alaskan natural gas pipeline no longer seems like a pipe dream, and the ability to develop what we used to consider unconventional natural gas resources has been a great shot in the arm not just for the entire industry, but for the country as well. Now it's up to the industry to prove that it can produce, process and move that natural gas safely and securely with protecting the environment as its core value," he said.
During a lively Natural Gas Executives Roundtable that kicked off the event, Mike Fulwood, principal of Nexant's Global Gas practice, said natural gas is the driver over the next few years. "If the economic recovery is slow and steady, gas demand and prices will remain weak. A faster recovery may provide some support to prices."
Fulwood shared a scenario on how the carbon pact that may be imposed later this year could be met. "You could meet that pact guideline, or come very close to it, if you displace 40% of the existing coal generation with natural gas and renewables," he explained. "This is not something that would require a ton of new gas-fired power plants, it is quite possible that a lot of this could come about with existing gas assets."
The Nexant executive also touched on the New Alternative Transportation to Give Americans Solutions Act (or NAT GAS Act), noting that it has big implications for the natural gas industry. The Act promotes the purchase and use of NGVs with an emphasis on heavy-duty and fleet vehicles.
"This has very positive benefits because it has the potential to displace half of our oil imports into the U.S.," he said.
J. Mark Robinson, principal of JMR Energy Infra and a well-known official with the Federal Energy Regulatory Commission until his retirement last year, said he sees transportation offering the greatest potential. He explained that 120 cubic feet of natural gas equals one gallon of gasoline, adding that natural gas could cut into the use of gasoline and in doing so, reduce oil consumption and the amount of pollutants going into the atmosphere.
By 2030, he said, about 10 Tcf could be devoted to transportation fuel.
Conversely, energy writer Robert Bryce, author of the just-published book Power Hungry: The Myths of "Green" Energy And The Real Fuels Of The Future, (Public Affairs, $27.95, 394 pp) sees things differently. Noting that billions of dollars have been spent in recent years to modify and expand refineries to produce more motor fuels such as diesel, he insisted that "Transportation will not be the key for natural gas use. Electricity generation will be. It will boil down to a political issue, though, and not an economic one. It's all about politics and everyone in the industry needs to understand that."
Pace Executive Vice President James Diemer also outlined the importance of natural gas in power generation in his presentation. He predicted that new regulations could result in the shutdown of older coal-fired power plants across the U.S. as owners face the possibility of spending millions of dollars to bring plants into compliance while still facing an uncertain future.
Other highlights of the morning session included Ariel Corporation President and CEO Karen Buchwald Wright's perspective on the nation's natural gas business and some of the unique challenges the carbon-trading issue could hold for the industry.
Wright said, "The carbon-trading industry will be used to push wind turbines, solar, ethanol, biodiesel etc., as viable national scale solutions for energy generation, which they are not. They will not be pushing natural gas although it will be required as a power backup for these unreliable installations."
"The people pushing the carbon trading scheme are not on our side," she warned.
In the following session, Vivek Kashyap, Manager, Welsun Tubular LLC, focused on future prospects for pipeline construction. One of the slides Kashyap shared depicted the miles of pipeline to be added through 2014 in the U.S. and Canada. "Regions with growing unconventional production will experience a higher portion of infrastructure development," he said,
Also of interest to attendees was a slide showing a $3-4.5 million per mile cost for the construction of 30-42-inch diameter natural gas pipeline.
Kashyap suggested that pipeline construction costs were likely to decline through 2010 before again resuming an upward trend.
Luncheon keynote speaker Hal Kvisle, president and CEO of TransCanada Corporation, gave an upbeat outlook on his company's plans for the Alaska Gas Pipeline and reported that the FERC had just approved the open season for the multibillion-dollar project that TransCanada is proposing to build with its partner ExxonMobil. He also discussed his company's frustration with the lack of action in the Mackenzie Valley pipeline proposal, which has been in the regulatory stage in Canada for more than six years.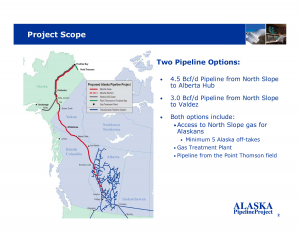 In the Alaskan Natural Gas Pipeline session that followed, TransCanada's Tony Palmer, vice president, Alaska Development, explained that in approving the open season, the FERC recommended that TransCanada immediately open its data room to allow prospective bidders adequate time to review "needed information," such as costs and fees and that certain revisions to its plan comply with the Commission's Standards of Conduct.
Palmer said TransCanada and ExxonMobil plan to use the results of the open season being held between April 30 and July 30 to decide whether the project would be a 1,700-mile pipeline from the North Slope to the province of Alberta or an 800-mile line bringing North Slope production to Valdez, Alaska.
The primary project would be a $32-41 billion, 1,700-mile pipeline from Prudhoe Bay that would connect with TransCanada's existing pipeline system in Alberta that carries natural gas into the U.S. The alternative 800-mile pipeline proposal would ship natural gas to a port in southern Alaska where it would be liquefied for transport to Asia and other foreign markets. TransCanada and ExxonMobil plan to build one or the other project, based on which one gets the most interest from potential customers.
The long-haul pipeline will be capable of shipping up to 4.5 Bcf/d of natural gas and could be expanded to carry 5.9 Bcf/d.
TransCanada's project competes directly with a pipeline planned by a joint venture owned by BP and ConocoPhillips called Denali which filed its open season plan on April 7 with the FERC. Both projects call for being in service around 2020.
Other highlights of the session included presentations by Mark Myers, Coordinator, Alaska Gasline Inducement Act, and Vice Admiral Thomas Barrett, USCG (Ret), Deputy Director, Office of Federal Coordinator for Alaska Natural Gas Pipeline Projects. Both speakers provided informative presentations on the timelines and challenges involved in completing the planned Alaskan pipeline projects that will open up the North Slope and other Alaskan gas basins to the market.

In the day's final session, executives from Spectra Energy, El Paso Corporation, Kinder Morgan and Alliance Pipeline focused on pipeline projects scheduled for service in 2010 and beyond.
Spectra Energy's General Manager Brian McKerlie said over the next five years his company would be spending $5 billion on expansions and that work finished up last year on a three-year, $3 billion expansion program.

The accompanying slides show Spectra's developing pipeline and storage projects under development and on the horizon that McKerlie discussed in detail.
In describing the company's Temax /Time III Project, McKerlie noted that it is designed to move Rockies natural gas further east from Clarington, OH where it interconnects with the Rockies Express Pipeline. "We're going to move 455 Mcf/d from Clarington in from Oakford, which is a storage area, to eastern markets," he said.
Turning to the Marcellus Shale, McKerlie views the supply as a suite of projects that will come on in time to meet existing demand. One of these is his company's Team 2012 project that involves a 200,000 Mcf/d expansion of the existing Texas Eastern Transmission system to deliver additional Appalachian and Marcellus Shale natural gas supplies to markets in the Northeast that is on track for service in November 2012.
He said the company's New Jersey-New York expansion involves an extension to the Texas Eastern system to move gas from the Algonquin system to Marcellus receipt points and then to Manhattan.
"It is a buildable project that will take about two years to construct, including a crossing of the Hudson River. We look forward to putting it into service in 2013. The facilities themselves have some compression reversals, pipe that will be lifted and replaced and the obvious extension that goes from our existing system up to New Jersey and under the Hudson River to Manhattan," he said.
El Paso's Tom Price, vice president, Marketing & Business Development, offered an extensive look on the progress of the Ruby Pipeline, a 675-mile system connecting the Opal Hub in southwestern Wyoming to the Malin Hub in Oregon. It will have four receipt points and four delivery points. It will interconnect with the Paiute Pipeline which serves northern Nevada and the Reno area. In Malin, it will have access to Tuscarora, also serving Reno, GTN, serving the Pacific Northwest and the CTT backbone system of PG&E that serves northern California.
Price said much had changed since they started marketing Ruby. In 2009 alone more than 5.4 Bcf of new pipeline capacity was built crossing the divide of the eastern vs. western market. "When you add on the additional LNG and development of Marcellus, we feel there is basically an oversupply push and project push east," he said. "When you look nationally at the development of the shales, Ruby is the only major project that continues to head west which we feel is going to be the premium market for the Rocky Mountain supplies."
Price said a unique characteristic about Ruby was the early decision to make it a green or carbon-neutral pipeline. This was done in a collaborative effort between El Paso's shippers and developers to minimize the carbon footprint by using internal coating and techniques to minimize friction losses. "Also, we will be using e-tags to offset any CO2 produced during the operation of the pipeline to achieve carbon neutrality," he said.
In describing where Ruby stands today, Price said El Paso has 1.1 Bcf of firm transportation commitments which is about 65% supported by the producing community in the Rocky Mountains and about 35% by PG&E. The project carries an estimated price tag of $3 billion. El Paso expects construction to commence this spring and believes they are on scheduled to achieve their targeted in-service date of March 1, 2011.
A presentation by Jim Lelio, Director, Business Development for Kinder Morgan, focused on moving commercial volumes of ethanol and biodiesel via pipeline and drew considerable interest. In December 2008, Kinder Morgan became the first company to transport ethanol through a pipeline for commercial use.
"We are moving batches of denatured ethanol along with gasoline shipments through our 85-mile Central Florida Pipeline from Tampa to Orlando and we're the only pipeline in the U.S. doing it," he said.
Lelio said the pipeline transporting ethanol was not a dedicated line. "Ethanol is batched in between batches of gasoline every week. With our recent optimization of tankage in 2009 we can now handle 100% of the Orlando ethanol market by pipeline."
Product quality, pipe cleanliness and dewatering are all key challenges that Kinder Morgan had to overcome, he explained.
Moving on to the company's biodiesel pipeline, Lelio said Kinder Morgan began moving blended biodiesel (B5) last summer on a mainline segment of the Plantation Pipeline from marketing terminals located in Athens, GA and Roanoke, VA. He said the company is shipping 10,000 Bpd of B5 blend and is working to expand that to 100,000 bpd, ultimately to 200,000 bpd.
Tony Straquadine, Government Affairs Manager for Alliance Pipeline, discussed the potential role of the 2,400-mile Alliance Pipeline in future shale plays due to its unique position. "On the northern end, our gathering system goes right through the Montney Shale in British Columbia which is estimated to hold 50 Tcf of recoverable gas reserves."
As a result, the company held an open season last year to attract shippers to bring supply into the Alliance system. Straquadine said the Bakken Shale offers opportunities as well, particularly since the construction of the 76-mile Prairie Rose Line that connects into the Alliance system.
"This is the first U.S. interconnect onto the Alliance system," he said. "We're attracting Bakken and Montney producers and expect as the Horn Shale in British Columbia develops, Alliance will likely see some of that gas coming down our system. Certainly another goal is to see how best to serve the Chicago market going forward."
Related Articles