Product Showcase
Innovative techniques, systems and equipment designed to save time and money.
For more information on any of the companies or products listed here, contact webmaster@oildom.com.

CPPI
Named as pipeline doctor, CPPI's high-resolution intelligent pig, combined with the state-of-art data acquiring module and the latest data analyzing software, is specially designed to inspect the metal loss and deformations for the onshore/offshore gas/liquid pipeline with diameters 8"-42", so as to realize pipeline integrity management. Please contact us at ptcint@cnptc.com for more information.
ptcint@cnptc.com

Laney Machine


Horizontal Boring Machines
The Laney AH400 Power Unit has a 4 cylinder turbo Caterpillar diesel engine that makes 11 horsepower, and weighs 2,700 lbs. Power is variable speed and is trans­ferred through a 5 speed Eaton-Fuller trans­mission to the drill pipe. The AH 400 has approximately 17,000 lbs. of thrust and weighs 1,100 lbs. The AH 400 is 11′ 3" long and 29" wide and is capable of boring 3" to 36" holes up to 300′. This machine can handle 5′ or 6′ drill pipe.
www.laneymachine.com
United Piping


United Piping Specializes in Oil and Gas Pipeline Fabrication
United Piping recently moved to a new location and built a new fabrication shop that doubled production capacity. Fabrication jobs can be done on-site or at our new facility. Call us for more informa­tion at 218-727-7676 or 1-800-269-2968.

FUSION PREP WIPE
Lymtech's Prep Wipes are the industry's preferred and recommended product. Pre-saturated with 96% Isopropyl alcohol, these lint-free wipes ensure consistent, effective and safe electro-fusion welds.
Convenient sizes and packaging options are available.
Improve your weld integrity and perfor­mance with a product made in USA.
Call 888-808-4319 for a sample today!
Olympus NDT
New Lightweight Videoscopes from Olympus
Combining superb ease of use with outstanding functionality, the new IPLEX LX and LT videoscopes from Olympus provide accurate inspections and allow smooth operation regardless of the user's experience level. The IPLEX LX and LT are lightweight and offer a new level of portability and versatility at just 6.0 lb.
www.olympus-ims.com
Citadel Technologies


DEKOTEC Corrosion
Protection of Pipes and Pipelines
Citadel Technologies is pleased to introduce to the North American market, the DEKOTEC family of corrosion pro­tection products. This line includes self -amalgamating butylen tapes, bitumen tapes, Liquitol polyurethane coatings, shrink sleeves, mastics, Rockshield, and many other product all designed to prevent external corrosion.
www.cittech.com.

Darby Equipment


For over 20 years, Darby Equipment has been providing pipeline contractors with qual­ity products and service. They're proud of their record of service and pledge to continue offer­ing the best equipment and personal service in the years ahead. For information on the equip­ment they offer you, call 800-882-5468
www.darbyequip.com

Mueller Company
Mueller Briscotm By — Pass Meter Valve
Do away with having to schedule service calls to service meters with the NEW Briscotm Meter Valve — allows meter set to be isolated without interrupting gas flow to the customer. Saves time and money. Now available as a re-lubricable valve.
For more information about this and other Mueller Gas Distribution Products, contact your local Mueller sales representative or the Mueller Customer Service Center at 1-800-798-3131
www.muellercompany.com
Deepwater Corrosion Services
The I-Clip attached to new or existing saddle clamp-style supports, eliminating the crevice at the support.
I-Clip is an individual pipe support clip installed on the inside diameter of a pipe sad­dle (=10 foot diameter). The clips themselves are mechanically held in place, allowing them to be retrofitted easily along existing pipe runs. New Grinnell and cradle-style supports can also be easily fitted with I-Clip systems. I-Clips are made out of a variety of materials, suited for elevated tempera­tures and large weight loads. Applications include: Pipe Cradle Retrofits, Large diameter band clamps, concrete or timber pier supports, high load riser clamps.
To order I-Clips, or for pricing, please contact Beverly Claflin at 713-983-7117 ext 222.
www.stoprust.com/iclip.htm

Pigs Unlimited International, Inc.


Magnetic Mandrel Pigs Pigs Unlimited, Inc. intro­duces its new Magnetic Mandrel Pig for ferrous debris and pig indicator detection. With its radial placement of high-powered, specially designed magnets, the entire spool piece is transformed into a giant single magnet. The pig is ideal for removing ferrous debris from the line, (including worn brush particles left by previous pig runs), as well as, failsafe detection by magnetic pig indicators. Available in sizes 4" and above, Magnet Packs can be incorporated with any steel-pig style, includ­ing cup, disc, conical-cup, and brush pigs. Contact us for more information. 23802 FM 2978, Ste. B3, Tomball, Texas 77375, Ph: (281) 351-2749 Fax: (281) 351-4658, Email: sales@pigsunlimited.com
www.pigsunlimited.com
Pipeway International


"Intelligent Solutions to
Complex Problems"
Contact Allen Pennington at :
23802 FM 2978, Suite D1
Tomball, TX 77375
Tel: 281-357-4848 Fax: 281-351-4658
Toll Free: 877-359-4848
Email: sales@pipeway.com
www.pipeway.com

Enduro Pipeline Services


The Enduro Pipeline Services pipeline inspection tool allows investigators to determine the size and location of anomalies in addition to services including pipeline mapping, sub-meter GPS coordinate to line features and line defect areas, bend analysis for direction and angle, river crossing profiles, and pipeline bench­marking for improved excavation points with anomaly location to clock position.
www.enduropls.com
Canusa-CPS


Canusa-CPS announces the launch of its new line of "visco-elastic" products. Ideally suited for short sections of pipe­line rehabilitation or for difficult to protect applications such as soil-to-air interfaces, Canusa's Wrapid Bond™ / Wrapid Coat™ System is a new product of choice.
www.canusa.com
LEP


CECO LEP PACKING solution captures lost natural gas in your existing packing case with no additional packing cups or costly modifications to your packing case. CECO engineers have developed LEP, Low Emission Packing to improve sealing effi­ciency, reduce lost gas and save you money.
www.ceconet.com

Lincoln Electric
The Power Wave AC/DC 1000 inverter power source from The Lincoln Electric Company is designed for submerged arc welding in single or multiple arc applications. The machine is rated at 1000 amps for AC or DC. Its software driven capabilities allow for unprecedented welding perfor­mance in pipe mills or pressure vessel applications.
www.lincolnelectric.com
NDT


NDT Systems & Services – Inpection of Pipelines with high wax content
NDT has introduced a special configu­ration of its successful LineExplorer range of ultrasonic tools optimized for the inspec­tion of crude oil lines with a high wax con­tents. This configuration allows crude oil lines to be inspected with ultrasound which could previously not be inspected with quantitative measurement techniques.
www.ndt-ag.com

For Facility Assessments… Call EN Engineering (ENE)
For years, ENE has conducted audits and assessments at natural gas compressor stations, LNG plants, propane-air plants and measurement and regulating stations for a variety of transmission and distribution companies. Call the ENE experts at (630) 353-4002.
www.enengineering.com

Bredero Shaw
Bredero Shaw's new Insul-8® HT system provides superior pipe insulation coating for temperatures up to 150oC (302oF). The system consists of a proprietary corrosion coating for high temperature foam insulation and an outer protective casing that allows installation of the pipe at temperatures down to -40 oC (-40 oF). www.brederoshaw.com
Insul-8® HT
ISCO


LOUISVILLE — Get connected to fast­er HDPE fusion. Anytime. Anywhere. Under any conditions. ISCO Industries is the Master Distributor for the Fast Fusion ™ MobileFusion Trac 20 self-propelled, self-contained tracked fusion machine. The unit's revolutionary engi­neering incorporates mobility, efficient pipe handling, and a patented enhanced cooling system to dramatically increase the production capacity and number of fusion welds per hour. Depending on the fusion equipment installed, the unit can butt fuse 2'' up to 20'' OD / HDPE. Field-proven, over 2000 miles of HDPE have been fused with no issues regarding the quality of the welds produced. The process is unaffected by time of day and inclement weather, and the in-cab cooling system delivers easier, quicker completed fusion welds up to 70% faster. Step up to greater productivity. Contact Garry Bouvet, ISCO Fast Fusion Marketing Manager at (800) 345-4726; ext 6660 for all the details.

VACMASTERS
VACMASTERS manufactures a complete family of AIR-VACUUM EXCAVATION SYSTEMS and DIRECTIONAL BORING MUD VACUUMS. Our SYSTEM 4000, SYSTEM 3000 and SYSTEM 1000 air-vacuum excavators enable oper­ators to pothole using high pressure air 95% of the time, while still having water available if required. Our SpoilVac mud vacuums, now available on-line/factory direct, are the highest quality, most economical systems available anywhere. To find out more visit us on-line at www.vacmasters.com or call us at (800) 466-7825.
www.vacmasters.com
ROSEN Group


ROSEN Asset Integrity Management Software (ROAIMS) is a collection of interoperable software tools that sup­port operators in maintaining pipelines in a reliable, safe and cost-effective condition. ROAIMS assists users in all aspects of the integrity management process, including feature assessment and risk assessment. Contact us for more information: info@roseninspection.net.
www.roseninspection.net
Trachte
Trachte's modular, pre-engineered, pre-assembled enclosures are flexible in size/design, built around an expandable galvanized steel framework, and avail­able in transportable sizes from 4'-30' wide. They are factory complete, fit­ted with customer specified equipment. More than 7,300 Trachte buildings have been installed for satisfied customers.
www.trachteusa.com
Enduro Pipeline Svcs., Inc.


Enduro Geometry Inspection Pigs determine the geometrical shape of the pipeline while providing information indicating dents, buckles, ovality, weld penetration, pipe expansions, valves, pipewall changes, debris deposits and pipeline footage. Pipeline anomalies are accurately sized and located for excavation and repair.
www.enduropls.com

Citadel Technologies BlackDiamond™


Easily applied and remarkably strong, BlackDiamond™ carbon fiber compos­ite systems are an extremely productive method of completely and permanently restoring the integrity of pipelines affect­ed by corrosion or mechanical damage. With over a decade of repairs in service, BlackDiamond™ has consistently proven its effectiveness over time. www.cittech.com

TECHNICAL BLASTING EXPERTISE
MD Drilling & Blasting utilizes only the best initiation and explosives deliv­ery systems compatible with the pipeline environment. Durable, safe, non-electric detonators are used throughout pipeline projects. We have state-of-the-art deliv­ery systems in place for the application of bulk emul­sions; the product of choice in the industry today.
Contact us for more info on pipeline applications. John Capasso at 800-370-0299, jcapasso@mdandb.com
www.mdandb.com
The MM1 Programmable Pipe Cutter is a computer-controlled machine that automates the cutting of profiles, holes and shapes on pipe with diameters from 4 in to 16 in. (10-40 cm). It rotates the pipe on its roller bed with a three jaw chuck while simultaneously moving a cutting torch back and forth along the pipe's axis.
Bug-O System/Cypress Welding Equip.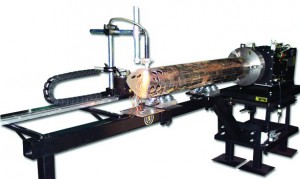 161 Hillpointe Dr. • Canonsburg, PA 15317 USA
Phone: 1-800-245-3186 (412-331-1776) • Fax: 1-412-331-0383
jwhite@weld.com • www.bugo.com • www.cypressweld.com

ATEX-compliant Pipeline Cleaning Tools


ROPLAST has developed a state-of-the-art pipeline cleaning tool in accor­dance with Directive 94/9/EC (Equipment and Protective Systems Intended for Use in Potentially Explosive Atmospheres). "Pig launchers and receivers are likely to be opened frequently and should normally be regarded as sources of primary grade release. The hazardous area should be classified as zone 1." (IP Model Code of Safe Practice in the Petroleum Industry, July 2005, 3rd Edition, Energy Institute London). Contact us for more informa­tion +49-5908-93737-20, sales@roplast.de.
www.roplast.de
Pipeline News
Pipeline News offers the latest contract infor­mation for the underground construction industry. Designed for pipeline & utilities contractors, the newsletter includes information on hundreds of jobs, at a fraction of the cost of other publications. It features Contracts Let, New Jobs, and a huge Future Jobs section. Also included are contract names, office and field office addresses, phone and fax numbers and job bid dates. Subscribers can get weekly updates at www.pipeline-news.com
www.pipeline-news.com
Polyguard
With the new RD6 OS girth weld coating for offshore pipe­lines, Polyguard has issued a TWO MINUTE WARNING to the offshore pipelay industry. The warning is: RD6 OS takes only two minutes to install, not the 4+ minutes experi­enced with most systems. No torch is required, which eliminates 5 installation steps. Also, machine assist­ed installation reduces time and improves quality compared to today's manual methods. Call Chic Hughes at 713.829.3709, or visit
www.polyguardproducts.com
CPPI
CPPI can design and manufacture various customized cleaning pigs like magnetic pig, disc pig, cup pig, pigs with steel brush or gauging plate etc. to thoroughly clean the impurities, waxes, dusts and sands in the gas or liquid pipeline. Please contact us at ptcint@cnptc.com for more information.
ptcint@cnptc.com
Mears Group, Inc.


Specializing in Pipeline Integrity Services: ECDA for cased pipe, Compliance with PHMSA low stress liquids pipeline rule, ILI Repairs and support services, pipeline retrofits including valve replacements, launch­ers and receivers, etc. Cathodic Protection testing, design, turn-key direct assessment-External, Internal and Stress Corrosion Cracking, Corrosion Engineering and Installation, Rehabilitation analysis, PIM planning, Conventional and Continuous Groundbed Design and Installation, Pipeline Recoating and Replacement. (800) 632-7727
www.mears.net
Henkels & McCoy
Henkels & McCoy is a lead­ing energy infrastructure service provider specializing in the con­struction of gas, oil and pro­duction pipelines and associated facilities.
Corporate Headquarters: 985 Jolly Road, Blue Bell, PA 19422
Toll Free 1-888-HENKELS * www.henkels.com
www.henkels.com
ProSoft Technology®
RadioLinx® Intelligent Cellular


The RadioLinx® Intelligent Cellular solutions combine robust industrial cellular technology, indus­trial protocol templates, and ALEOS persistent con­nection management. The rugged design of these devices supports industrial operating temperatures and Class I Div 2 hazardous location certification. The modules are suited for Industrial Automation applica­tions such as remote process, OEM equipment monitoring, M2M applications, and non-time-critical control for municipal water/wastewater, power transmis­sion/generation/distribution, and oil/gas SCADA. Versions are available for both serial and Ethernet devices for CDMA and GSM based cellular networks. ProSoft Technology technical support will help you select the best wireless service plan for you application.
www.prosoft-technology.com/wireless

Neptune Research, Inc.


Neptune Research, Inc. (NRI) has granted the Western States Distributorship for their award winning series of water activated composite repair and corrosion protection products to Corrosion Control Products Company. NRI is well known for their Engineered Composites for Pipe Repair and Pipeline Rehabilitation, providing quick temporary or permanent repairs in wet or dry environments. NRI developed Trident-Seal™ Live Natural Gas Leak Repair Kits (standard issue for the US Navy), Trident-Wrap™ Riser Repair & Reinforcement Kits, Syntho-Glass® Pipe & Joint Repair Kits and Syntho-Glass® XT Pipeline Integrity Restoration Systems. For over 25 years NRI has manufactured user-friendly composite solutions for difficult situations. Call us for more information on these unique, time-tested quality products.
www.neptuneresearch.com