More pipelines are being built and going into service. Shale gas plays are expanding the possible upstream sources. Squeezed by a lackluster economy, LDCs, manufacturers, and other downstream users are understaffed and under stress. For a pipeline company, it's a climate where high customer satisfaction can be the difference between profitability and disaster — and at the same time, harder than ever to achieve.

And yet in this tight climate, Mastio & Company's annual pipeline customer satisfaction survey indicates that most transmission companies have seen satisfaction rates go slightly up, while the leaders of the pack maintain a high and stable level of customer happiness.
This year's listings find Kern River Gas Transmission Co. rated highest in the local or regional pipeline category, while Northern Natural Gas Co. tops both the mega pipeline group category and the major pipeline rankings. (For full rankings, see the accompanying charts.)
Natural Gas Transportation Study 14th Edition – 2010
Major Pipeline Group
(In Rank Order by Weighted Quality Score)

Natural Gas Transportation Study 14th Edition – 2010
Regional Pipeline Group
(In Rank Order by Weighted Quality Score)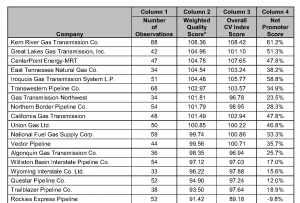 Repeat Successes
This marks the second year running in the top spot for Northern Natural's mega pipeline business and Kern River in the regional category. Both are owned by MidAmerican Energy. Northern Natural's ascendance to first place in major pipelines as well gives MidAmerican a trifecta for 2010 after a group-wide push for improved customer service throughout the last years of the decade.
"When MidAmerican bought Northern Natural, they were toward the bottom of the rankings. They've really invested a lot of effort and human capital to change the way they view the customer and pull themselves up," said Kevin Huntsman, director of the study at Mastio & Company.
But MidAmerican isn't the only company investing in customer service. There's plenty of repetition in the rest of the names pulled out for high achievement: Southern Natural Gas Company comes in second in mega pipelines and third in major. Williams Gas Pipeline earns mention in the top ten for mega pipelines and major pipelines with two separate networks, Transco and Northwest. TransCanada's Mainline network "exceeds the industry benchmark" in both major and mega sections, with its Alberta sibling in the major ranking.
Even more impressive is year-over-year performance. The tally of companies exceeding benchmarks increases each year, but once a group reaches the top ranks, it rarely falls out. Seven mega pipeline groups, eight major pipelines and seven regional pipelines earned "exceeded industry benchmarks" status in 2007. Only one in each category did not repeat the feat in 2010 — a cumulative drop-off rate of 12%, 14% and 12% respectively over three years.
Constant Vigilance
As similar as annual listings can look, though, customer service is not something that can be "achieved" and simply forgotten about. According to study director Huntsman, "It's harder to stay at the top. For pipelines at the top of their game, if they make a mistake it's magnified. They don't make many mistakes. But if a pipeline down in the bottom quartile makes a mistake, people say 'Oh heck, they do that all the time.'"
Customer satisfaction has little to do with the operational issues that keep a pipeline in business — competence there is simply a prerequisite. Huntsman explains, "If you aren't reliable, people aren't going to do business with you. You have to be consistent. You have to get your invoices out. But you're not going to be rewarded for being best in class at that stuff. You'll just get nailed if there's an issue."
In fact, Huntsman argues that companies only get to the top through a corporation-wide focus on excellence in a particular subset of measurements, what he calls the "soft issues": Honesty in communication. Reps that understand the customer's business. Timely responses to problems. "They make it easy to do business with them. It's the heart of customer value and loyalty."
But not messing up is the most many companies aim for, especially when all of their transmission capacity is contracted. "They say well, we're fully subscribed. This is what you get, take it or leave it." With the long-term contracts of the pipeline industry, an irritated buyer can't decamp as quickly as in other industries.
Sooner or later, however, that contract has to be re-upped, and in an interconnected industry, reputations spread. Huntsman says, "When you're at the LDC Forum talking about how great it is to do business with company XYZ, and the guy you're talking to is using somebody else and he doesn't like it, that carries a lot of weight."
Strategic Advantages And Economic Imperatives
The economic collapse of 2008 squeezed nearly every sector of the marketplace somehow, and pipelines are no different. But there are unique stresses at play in the natural gas business. Shale and other unconventional sources of gas increase supply and inspire new construction to compete with existing pipes. As of August 2010, P&GJ reported 31,217 miles of new pipelines under construction worldwide.
The corresponding dip in gas prices affects pipeline companies too. When natural gas commodity prices are high, transportation costs are a small piece of the pie. When gas prices are comparatively low, as they are now, end users pay a higher percentage of their revenues to their transmission companies—and that often coincides with higher expectations.
Huntsman notes a new focus on retention among pipeline groups in the past two years, with companies "clawing and scratching to keep their customers."
"If my pipe goes to the same place as your pipe, what's the difference? The economy being what it is, it's critical not only to maintain these relationships, but make them better," he emphasizes. "It's a lot easier to keep a customer and keep them happy than it is to go out and chase new ones."
That insight occurs to different organizations at different times. El Paso's Southern Natural Gas, a fixture at the upper echelon of the Mastio studies, rose to the top under the care of Jim Yardley, currently president of El Paso's Pipeline Group, and Janice Parker, now vice president of customer service for EP's Western Pipeline Group.
Huntsman calls Parker someone who's left a trail of visible customer service successes at multiple groups: "She really believes in the importance of working with her customers and developing that relationship."
Parker, though, attributes El Paso's customer service awakening to Yardley's insight when faced with a diversifying market in the late '90s. "I was at Southern Natural Gas when Jim Yardley came in as president of the company in the late '90s. He said that across our service territory and in our largest cities, we have competition with other pipes. In all of those cities we may not always be the lowest-cost option. We cannot always compete on price. We need to have more in our toolbox. When the customer wants gas, we need to provide it when they want it, where they want it, at the pressure they want it. We need to provide as much tangible service as possible."
It was a lasting change in philosophy. "Just as important, in 2004, El Paso Corporation adopted a set of guiding principles—excellence, integrity, accountability, stewardship and safety—for all of its business activities that significantly helped support our focus on customer service," says Parker.
In the current climate, with customers under economic siege, increased competition and more current players focusing on retention efforts, a competent and proactive customer service approach begins to look like a competitive requirement.
The caveat, of course, is that a company must recognize its importance. Parker is adamant that service mindsets have to be present in order to see results.
"From a company perspective, it takes leadership from the top — at the officer level — to really emphasize the importance of customer service. You cannot create culture change from the bottom up."
Huntsman echoes the sentiment. "If you're a mid-level person in an organization, and your VP doesn't really care about customer service, then why should you? If you do care, but you're constantly butting your head against the wall because your boss doesn't care, that's going to create internal strife."
Entrenching A Service Culture
Even with buy-in from leadership, companies often underestimate the amount of effort required to reach the crucial point in their relationships with customers. To be effective, Parker says, customer service must truly be a culture: "It can't just be a program; you don't want it to be a flavor of the month kind of thing. It really needs to be solidly entrenched in your behaviors, just the way safety is."
Parker, now focusing on increasing customer service at El Paso's Colorado Interstate Gas and El Paso Natural Gas companies, has developed a strategy over her 25 years in the industry to ingrain customer service culture using three steps.
Step one is achieving the proper mindset. That means a "consistent focus on customer service, all up and down the company and side to side, whether you deal with the external customer directly or not. The only reason we're in business is to serve our customers, and every role is somehow tied to being able to provide that service."
The second step is reliability, in operational and interpersonal fields. "We have to be reliable for the customers in delivery, in the answers we give, in the timeliness of our follow-through on any issue we're trying to solve, and in our information systems, so they know the information they get every day is accurate." The differences between expectations and results are measured, with metrics on unexpected service downtime, completion of commitments and any recurring issues.
The third point, Parker says, relies on the first two. "If you're doing the first two pieces well, so that customers can see it and feel it and hear it, you can develop a collaborative relationship." Collaborative relationships are business-to-business, solving problems between the parties directly affected instead of resorting to the judgment of the Federal Energy Regulatory Commission or other official refereeing. "Even though we're regulated, we shouldn't be working out all our issues in a litigious forum," she says.
Constant Progress
Although the long-term interpersonal focus of the collaborative relationship model explains why so many companies score consistently high in the Mastio studies year after year, there are still pitfalls for those who don't dedicate themselves to constant improvement. "If you stand still, you will get passed by," warns Parker. "What we've found is that you can maintain and have nothing go wrong and nothing change in your business from year to year, and if another pipe is doing a better job than you, customers will know it."
Therefore, plenty of attention is dedicated to forward motion. In Parker's organization, "People share customer service minutes and conduct reviews of good and bad impacts. We've developed a customer service charter and we train around it." Employees' customer service is measured as a core competency when performance is evaluated. "I see examples every day of how the El Paso team is committed to providing customer-focused service," Parker says. "I credit their commitment for the improvements we are making."
El Paso also asks customers to volunteer as part of an advisory group to determine what issues and upgrades are most important, and to fill out surveys on their needs and opinions. The surveys give the big picture: "Instead of just the one-on-one feedback we get from customers every day, it helps us develop themes."
The advisory groups, meanwhile, increased collaboration between customers themselves, and allowed the stakeholders to agree on what improvements were most pressing. Once action items are identified, the stakeholders receive updates on progress. According to Parker, the results are classic win-win: "The customers now have a handprint all over our improvements, and they know and recognize where we are making changes to increase service."
However, one of the bedrock values of Parker's customer service outlook is a clear-eyed understanding of the place a pipeline company has in its customers' work. "Our customers are the center of our universe. I'd love to be at the center of my customers' universe. But all of my customers do something else: they produce electricity, they deliver natural gas to their customers, they produce goods, they produce and market natural gas." The end result is a certain requirement for humility. "We're just a piece in the puzzle of their core business, and we need to be the easiest piece to deal with that we can be."
Do you have a customer service culture? Check for these signposts:
– Service orientation is present in the whole organization, from the top down;
– No "he said, she said" — all representatives cohere on their message and follow through;
– Customers know in advance if something unpleasant is coming; and
– Progress is visible: customers know what you're working on.