Product Company: CECO Pipeline Services Co.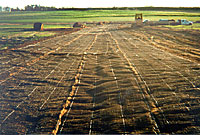 CECO Pipeline Services personnel realize the importance of maintaining proper cover over pipelines.
On June 5, 1964, from salesman Ernest Hotze's desire to provide his customers with needed parts for a compressor on a gas pipeline, Compressor Engineering Corporation (CECO) was formed. From its early days in Hotze's garage, CECO has grown into a family of companies, with locations across Texas and the South, becoming a leader in providing products and services to gas pipelines, gathering and processing companies, petrochemical, industrial and refrigeration plants worldwide.
CECO Pipeline Services (CPSC) began providing a variety of quality services to pipeline operators in 2003.