PG&E Completes Cast-Iron Replacement, Earns Safety Certifications
Since Pacific Gas and Electric Company (PG&E) finished replacing all 835 miles of cast-iron pipeline in its system ahead of its 2014 year-end goal, the company has turned its attention to further modernizing its infrastructure with the latest gas-safety technology and by building a skilled workforce.
The decommissioning of cast-iron pipe, which began in 1985, covered enough distance to run from Seattle to San Francisco, and has been followed by implementation of one of the most comprehensive modernization programs in the nation.
Thus far, PG&E's effort has entailed validated the maximum allowable operating pressure of its entire 6,750-mile transmission pipeline system, replaced 127 miles of transmission pipeline, automation of 208 valves and the conversion of over 3.8 million pipeline records to digital formats.
"It took single-minded determination by our crews, engineers and support teams throughout PG&E to complete this project within the ambitious timeline," said Chris Johns, PG&E president. "I am extremely proud of everyone who had a hand in making this happen safely and on schedule."
In the wake of the San Bruno rupture of a high-pressure, 30-inch transmission line in September 2010 that resulted in an explosion claiming eight lives, PG&E had to rebuild not only its gas components but also trust among Californians. Because PG&E has a massive 70,000-square-mile service area, which includes cities and suburbs, as well as rural areas, much community involvement was required in order to meet such an ambitious timeline.
"A significant amount of this work was done in and around San Francisco," said Jesus Soto Jr., senior vice president of Gas Transmission Operations. "Of course, there was some traffic impact but we strive to work closely with our local government partners, police and municipal agencies to make sure that this work had a limited impact on the community."
To that end, PG&E crews relied heavily on horizontal directional drilling (HDD) to limit excavations, particularly in heavily populated areas. The company also relied on pipe-splitting technologies in some areas of the Central Valley.
"PG&E's top priority is the safety of customers, employees and the communities we serve," Soto said. "Providing detailed, localize outreach about these programs and upgrade is key to keeping our customers and families safe and informed about the projects that are taking place in their communities."
As part of its safety improvement effort, PG&E also built a state-of-the-art Gas Control Center in San Ramon that provides unprecedented intelligence and data, giving unique insight into the status of its gas system.
The control room enables PG&E to more quickly assess and resolve problems. System operators for both the transmission and distribution gas system are located in one large room. At their work stations, several monitors provide details of specific parts of PG&E's gas system. In front of them is a 90-foot-long video wall that provides key data from across the service area. The design of the room allows for developing changes to be seen in real-time.
In addition to the video wall, the control center contains other innovative elements, including a smart board that allows real-time communication with personnel in the field and a simulator room.
Other PG&E moves toward a safer environment include:
• Becoming the first company in the country to test and deploy vehicle-mounted gas leak detection tools that are 1,000 times more sensitive than conventional tools.
• Launched a Gas Operations Corrective Action Program to provide employees and contractors a system, on multiple platforms, to report potential and existing issues, and track the corrective actions taken by the company.
Lloyd's Register Recognizes Safety Efforts
In large part as a result of concrete safety-related actions PG&E has taken following the San Bruno explosion, the company recently became one of the first utilities ever to earn two of the highest internationally recognized safety certifications – the International Organization for Standardization (ISO) 55001 and Publicly Available Specification (PAS) 55-1.
The certifications were awarded by the independent, internationally recognized auditor, Lloyd's Register, in late 2014.
"Our commitment to continuous improvement in our gas operations shines through these recertifications," said Nick Stavropoulos, executive vice president of PG&E's gas operations. "Our team is working every day to build a 21st century gas infrastructure that our customers have come to expect from PG&E. We are dedicated to becoming the safest, most reliable gas system in the nation and these certifications are evidence of our commitment to achieving this goal."
PG&E is one of the first companies to hold both the (ISO) 55001: 2014 and (PAS) 55-1: 2008 certifications. Lloyd's Register traveled across PG&E's service area reviewing safety practices, information and risk management policies, employee qualifications, emergency response protocols and over 20 additional critical areas of asset management.
The recertification process took place during the week of Nov 3, involving site visits, internal reviews and employee interviews.
"Over the past several months, PG&E has made very significant progress in a very short period of time," said Peter Glaholm, utilities regional manager for Lloyd's Register. "I have been impressed with their dedication to the principles outlined in these certifications and to what they call a safety-first culture."
ISO 55001: 2014 and PAS 55-1: 2008 are renewed every three years with regular observation assessments to maintain certification. ISO 55001: 2014 was developed by ISO to enable organizations to implement effective and efficient management systems for physical assets. The certification provides assurance that an organization can achieve its asset management objectives consistently and sustainably over time.
PAS 55-1: 2008 was developed by the Institute for Asset Management and published by the British Standards Institution. This rigorous specification is focused on optimized management of physical assets with widespread recognition among utilities, transport, mining, process and manufacturing industries worldwide.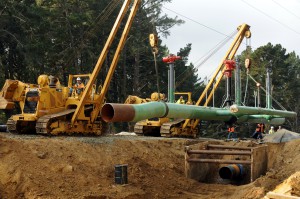 One of the 37 completed valve automations along the Millbrae Pipeline.

A state-of-the-art Gas Control Center in San Ramon provides unprecedented intelligence and data.
Related Articles