Whats New January 2015
New products and services from PipeLine Machinery, T.D. Williamson, Powerblanket, L.B. Foster Ball Winch, Schneider Electric, McElroy, John Deere and more.

PipeLine Machinery International (PLM), PRINOTH
PipeLine Machinery International (PLM) has released a new custom equipment solution to the pipeline industry, the PANTHER T12 by off-road vehicle specialist PRINOTH. A low ground pressure carrier crawler, the machine operates in off-road and various weather conditions. It has a capacity of 25,000 pounds and a ground pressure of 5.95 psi fully loaded, making difficult types of terrain accessible. Together with a strong pull ratio, these features allow this carrier to access the pipeline jobsite without damage to the environment. A dynamic track tension offers proper tension while working. Large wheels allow for more contact with the track, more stability and longer track life and prevent the undercarriage from freezing in harsh winter temperatures. www.plmcat.com.
T. D. Williamson


TDW uses its SmartPlug tool to isolate pressure in specific sections of pipelines and risers so that repairs or interventions can be carried out safely. Operated by remote control, the tool is certified to "Safety Class High" in accordance with OS-F101 for submarine pipeline systems. It is certified and type-approved to execute independent double-block isolation to provide a safe environment for divers while working near a pressurized gas pipeline. The company's remote-controlled SmartTrack tracking and monitoring system uses two-way, through-wall electromagnetic communication between a transponder and a receiver to track the tool's progress, control its speed, and monitor conditions in real-time. www.tdwilliamson.com.
Powerblanket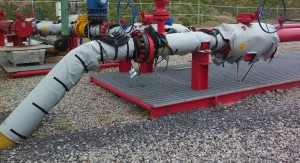 Freezing temperatures can harm valves, and a malfunctioning valve means a malfunctioning pipeline. Powerblanket offers valve and pipe heaters to provide freeze protection down to -40°F/-40°C. The heaters cover valves and warm them to the ideal operating temperature. Valve heaters can be custom fitted. The patented technology is designed to provide more efficient heating than conventional approaches. www.powerblanket.com.
McElroy


The McElroy Acrobat 160 is a low-force fusion machine for 63mm to 160mm polypropylene pipe. The lightweight device has a small footprint to deliver easy access in tight work spaces. The carriage can be reconfigured from 4 to 3 jaws without using tools. The jaws are narrow so that fusions can be made on most flanged pipe and branch outlet fittings. The machine is compatible with the company's recording and documentation equipment. www.mcelroy.com.
L.B. Foster Ball Winch


L.B. Foster Ball Winch now applies Fusion-Bonded Epoxy (FBE) coatings on pipeline joints in the field. This protective coating is a one-part, heat curable, thermosetting epoxy powder designed for corrosion protection of pipe. FBE coated pipe is in service worldwide. The company invites difficult schedules and specifications for its experienced team. 936-228-0077, sales@ballwinch.com, http://lbfoster-ballwinch.com.

ValvTechnologies


ValvTechnologies, Inc., manufacturer of zero-leakage severe service isolation valve solutions, has expanded its existing in-house welding capabilities by adding six new state-of-the-art machines dedicated to the welding process, including an Arc-5 cladding machine and five Fronius cladders. Additionally, the company has hired a staff of more than 20 welders. Its facility features multiple welding stations with positioners and MIG, TIG and FLUX-CORE capabilities. www.valv.com.
ComposiSleeve
[[photo caption: A still from a ComposiSleeve demonstration video. Credit: ComposiSleeve.]]
ComposiSleeve offers a permanent repair for a pipeline anomaly, beginning with two carbon steel split sleeves that are specifically designed and formed to fit any particular piping configuration in need of repair, and a design and conformity that also accommodates the raised weld cap (girth weld) if needed. The sleeves are then adhered in place using a patented adhesion and compressed under a high compression rate applied uniformly along the entire length of the sleeves with tensioners while the adhesion cures. Then the entire sleeve installation is wrapped using a patented composite wrap. No welding is involved. www.composisleeve.com.
Doosan


Doosan has added to its Tier 4-compliant crawler excavator lineup with the DX420LC-5, DX490LC-5 and DX530LC-5. The three new excavators feature increased performance, operator-focused comfort and fuel efficiency versus the interim Tier 4 machines. In addition, the new machines feature an improved 7-inch LCD display panel so operators can monitor the excavator parameters while viewing the rearview and/or side view camera image. Critical machine data appears next to the camera view. With an optional side camera, a split screen allows both camera displays to be viewed at once. www.doosanequipment.com.
Intermap Technologies


Intermap Technologies has released InsitePro for Pipelines, a customized version of its natural catastrophe risk management software describing the locations of high consequence areas (HCAs). Created specifically for hazardous liquid pipeline operators throughout North America, the software enables risk-based decision-making and improved environmental and regulatory compliance by providing immediate, up-to-date, simple access to information. PHMSA has encountered funding and resource challenges updating ecological and drinking water HCAs. The last release was in 2000. In general, the industry does not have the tools to maintain these complex datasets — although they are responsible for factoring environmental change into their integrity management programs. The program provides continual updates on sensitive resource areas that can be readily integrated into operators' programs to enhance risk-based decisions. www.intermap.com/software/insitepro/pipelines.
Schneider Electric


Schneider Electric has released an update to its mobile reporting software, Wonderware SmartGlance 2014 R2. The updated version includes new features to make it easier to monitor, visualize and analyze real-time plant and industrial process data via mobile devices. These features include support for wearable technologies, a modern user interface for any browser, self-serve registration, support for multiple time zones for a global user base and full import and export capabilities for faster deployment. The software's newest mobile app feature proactively notifies users of process events so they can stay current with real-time information based on configurable thresholds for tag reports. The software can be used with smart watches to alert mobile and remote field workers, plant supervisors and managers of critical production and process information in a real-time, hands-free manner. www.schneider-electric.com/us, www.software.invensys.com.
John Deere


John Deere introduces two models of wheeled excavators to bring added mobility and maneuverability to the jobsite. The 190G W and 230G W are equipped with a 159 hp certified Interim Tier 4 Isuzu engine and the Powerwise III hydraulic engine management system that offers three productivity modes: high productivity, power and economy mode, as well as a power dig and auto power lift function. High productivity mode delivers more power and faster hydraulic response to move a greater amount of material. Power mode delivers smooth and balanced metering for normal operation and economy mode reduces top speed and helps save fuel. For convenience, the power dig button allows an operator to get the extra hydraulic power to increase productivity. www.JohnDeere.com.
Terramac


With a maximum capacity of 25, the Terramac RT9 is an all-terrain utility vehicle designed to transfer people to a jobsite over rough, soft and steep ground conditions. With a carrying capacity of 18,000 pounds, it has more than enough power to move a crew. Available for sale or rent, the crawler carrier can be ordered from the factory with the correct body configuration to accept custom accessories. www.terramac.com.
SPATCO Energy Solutions, Galileo


The Galileo Cryobox Nano Station is a small scale, transportable LNG production plant capable of converting pipeline or wellhead natural gas into LNG. It can be installed wherever LNG is needed. Each unit is modular, scalable, easy to install and maintain, and capable of generating both LNG and CNG at low operating costs. Units are remotely monitored and compliant with all international standards. The units operate with little environmental impact, generating low levels of noise and vibration with no emissions. (704) 596-4373, www.southernpump.com.
DPL Telematics


DPL Telematics has released the MultiTrack system, a solution for wireless monitoring and remote tracking of any powered or unpowered asset to improve logistics, manage inventory and curb theft. The portable GPS unit requires no external wiring or antenna and may be hidden on any asset, installing in seconds. As a locator, the device sends a notification whenever the host asset begins moving or on demand, and alerts during customer-defined curfews whenever there is unauthorized activity. For a semi-permanent trailer tracking installation, an optional wiring harness may be used to extend the battery life, in which the system is wired to the tail light circuitry to automatically charge whenever the trailer is hitched. When disconnected from power the unit uses its internal battery to communicate location, speed, travel time, route, unauthorized movement and tow alerts. www.dpltel.com.
Mujjo


Mujjo has released Refined Touchscreen Gloves, knitted gloves with a leather strap that crosses over a notch on the wrist where a matte black leather button provides a snap closure. The cuff boards are constructed of matching black leather and the palms feature grip dots to aid in anti-slip capability. A layer of integrated fleece lining provides a soft touch. www.mujjo.com.