What's New: November 2014
New products and services from Schneider Electric, Wurldtech, Mattracks, John Deere, HammerHead, ProSoft, Vermeer and more.

Mattracks


Mattracks has released its new series of Ag Tracks, the TA9000 series. It includes track systems for tractors, harvesters, sprayers and more with axle loads from 10-20 tons and is available in widths of 15", 20", 24" and 30". 218-683-9800, sales@mattracks.com, http://mattracks.com.
TÜV Rheinland

TÜV Rheinland's Saturated Low Frequency Eddy Current (SLOFEC) is a non-destructive testing service to help detect defects and corrosion in thick-walled storage tanks, including tank floor, roof, wall, boiler tubes and pipelines. It detects small cracks and pitting and general corrosion on flat or curved surfaces while identifying the exact location of the anomaly. It combines the eddy-current principle and a magnetic field, allowing inspectors to test walls up to 22 mm thick as well as coated surfaces. The technique can be used to inspect internal and external tank surfaces and is applicable to ferromagnetic and non-ferromagnetic materials. The inspections are conducted with pipe or flat scanners whose modular design allows the scanning equipment to adapt quickly to any inspected surface. The testing operator manually moves the scanning device over the tested surface and the signal data are directly recorded in the reporting and analysis computed system, permitting defects and corrosion spaces to be displayed and analyzed online. 800-748-0208, www.tuvris.com.
HammerHead Trenchless Equipment


HammerHead Trenchless Equipment has developed a new system for replacing half-inch to 4-inch natural gas distribution pipe. Used in conjunction with cable winches, the patented tool string components include expanders, connectors, and splitting tools with replaceable hardened-steel blades. The system increases production rates for replacing existing runs of PVC, HDPE, MDPE and Aldyl-A pipe with new MDPE or HDPE pipe. The process allows contractors to replace worn tooling and choose from a selection of cable size and winch options. The integrated swivel design eliminates torque on replacement pipe as it is installed during pullback. 800-331-6653, www.hammerheadtrenchless.com.
Exterran


Exterran recently launched its C-Series 3516, to be used in a wide array of natural gas applications generally above 5 pounds per square inch gauge (psig) inlet pressure and up to 1,300 psig discharge pressure. Typical applications include wellhead, gas gathering, flare elimination, gas processing and plant inlet and residue. Built on a heavy-duty, 12-foot-wide skid suitable for mounting on a compacted gravel pad or concrete foundation, it is available up to 1,380 hp and outfitted with a Cat 3516B engine and an Ariel JGT4 compressor. Available in seven base models in one-, two- and three-stage configurations, benefits include delivery in 10-14 weeks. A ready inventory of preconfigured units may be available for immediate delivery. http://www.exterran.com/c-series.
TMK IPSCO
TMK IPSCO has adopted a new naming convention for its tubular connections and premium connections product lineto align the North American brand strategy with the global brand strategy. The entire family of TMK Group connections will now be referred to as TMK UP. The series of premium connections including SF, DQX, QX, FJ and FX will now be marketed under the brand TMK UP ULTRA. http://tmk-ipsco.com.
Wurldtech


Wurldtech's Achilles Industrial Next Gen Firewall is purpose-built to protect industrial and SCADA operations by offering comprehensive security, industrial application visibility, and an easy-to-use graphical interface. Combining the protection of a firewall, intrusion prevention, and application visibility and control, this operational technology security solution monitors network traffic and blocks unexpected and malicious activity. www.wurldtech.com.
ProSoft


ProSoft has released the IEC 61850 Server Module for ControlLogix and the EtherNet/IP to IEC 61850 Client Gateway. The in-chassis module allows Rockwell Automation ControlLogix PACs to emulate Intelligent Electronic Devices on an IEC 61850 Ethernet network, enabling the PAC to exchange data with SCADA systems. In substation automation applications, the module enables non-smart electrical substation devices, such as transformers and switchgear, to present their data as IEDs to the SCADA system. An add-on instruction allows for data transfer between the PAC and the module, simplifying data retrieval for the user. Devices on the network can communicate with PACs on an EtherNet/IP network. The gateway's two independent Ethernet ports allow the protocols to be on different subnets. The configuration software that comes with the gateway uses IED configuration files to import complex data structures. info@prosoft-technology.com, www.prosoft-technology.com.
INVISTA
INVISTA, a subsidiary of Koch Industries, has introduced Raptor nylon pipe, a nylon 6,6 homogenous single wall line pipe that withstands temperatures up to 200 degrees Fahrenheit and pressures up to 500 psi. The pipe comes coiled in up to 2,000-foot sections suitable for applications ranging from multiphase flow lines to low pressure natural gas gathering. Pipe is available as 2-inch, 3-inch, 4-inch and 6-inch IPS and SDRs 7, 9 and 11. Six-inch pipe is expected to be available shortly. www.RaptorNylonPipe.com.
Hammer Drilling Rigs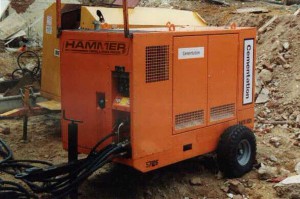 Hammer Drilling Rigs has announced new portable hydraulic power units that couple to various hydraulic machinery to prevent projects being affected by fallout from a hydraulic system break-down. The units' modular design allows for several sizes and configurations, including open skid frame design and fully enclosed units with sound insulation, towing kit and drip tray options. Features include a 70hp to 250hp diesel engine options, hydraulic power take off from single, tandem or triple hydraulic pumps, and a design intended to run cool in ambient temperatures up to 120 degrees Fahrenheit. 800-371-5316, sales@hammerdrillingrigs.com, www.hammerdrillingrigs.com.
John Deere


John Deere has upgraded its 250G LC, 350G LC and 380G LC excavators with a Final Tier 4 engine. Diesel particulate filter (DPF) cleaning still occurs automatically with no impact to machine operation. The DPF can go up to 15,000 hours before ash removal. The new models feature a larger hood for improved engine access, a nine-pin diagnostic connector moved into the cab to reduce diagnostic testing time, and a single side ground level fluid filter service, which moves the engine oil, fuel, and hydraulic pilot oil filters to ground level on the right side of the machine and adds a service door for easy access to change filters. www.JohnDeere.com.
Vermeer


Vermeer has introduced a new horizontal directional drill with added power and improved precision control. The D20x22 S3 Navigator HDD was designed as a small footprint machine to increase productivity when working in urban or tight jobsites. It features 19,550 pounds of thrust/pullback with 2,250 foot-pounds of torque. The 74-hp engine is capable of 12% greater power compared to its predecessor. All new models that feature the S3 label are Tier 4 Final (Stage IV) emission compliant in North America and Europe. salesinfo@vermeer.com, www.vermeer.com.
Schneider Electric
Schneider Electric has added new and updated features to its Avantis enterprise asset management software, extending usability, knowledge management and collaboration for predictive asset management. New workflow functionality provides customers with closed-loop work process management, along with escalation and system of record capture of processes, procedures and activities. A plug-in for Esri's geographic information system allows customers to view Avantis.PRO information in a map and manage work based on physical locations. To meet the need for lower cost of ownership and deployment, the software has also been qualified to operate on virtual machines hosted within the Microsoft Azure environment using the Platform-as-a-Service hosting model. www.schneider-electric.com.
Hyundai Construction Equipment Americas, Inc.


Hyundai's newest wheel loader model, the HL760-9A, includes a certified Interim Tier 4 engine upgrade, improved durability and enhanced operator comfort. Its 222 hp Cummins Interim Tier 4/Stage IIIB, QSB6.7 engine offers three engine modes, Power, Standard and Economy, which enable the machine to switch between full power and reduced fuel consumption according to the user's preference. In order to provide maximum flexibility, the fully automatic transmission features four step shift modes: manual, light, normal and heavy. It has an operating weight of 40,450 pounds, a 4.3 cubic yard bucket capacity and a bucket breakout force of 35,780 pounds. www.hceamericas.com.
Permasense


Permasense uses an ultrasonic sensor affixed to pipes and pipework to give a continuous measurement of corrosion or erosion to the interior walls of pipes that flow with oil and gas. It is wireless and battery-operated, with batteries lasting up to 10 years. It keeps a data base tracking the rates of degradation to allow damage to be mitigated or pipe replaced. www.permasense.com.
OleumTech


OleumTech has launched the RS485 I/O Expansion System, compatible with any Modbus RS485 Master device and requiring no software configuration. A true standalone I/O expansion system, it is designed for customization, smooth installation and ease of use and can be deployed with tool-free mounting on a 35 mm DIN rail. The same I/O modules can be used for both expansion and wireless hardwire replication solutions. sales@oleumtech.com, www.oleumtech.com.