Confluence Of Events Underscores Problems Getting Propane To Market
That so many Americans found themselves without enough propane to heat their homes adequately this winter can be attributed to several factors. Oddly enough, though, experts agree none of these involve an actual shortage of fuel.

The production of propane, which is a byproduct of natural gas production and crude oil refining, has never been so prolific – increasing to 1.39 MMbpd in October 2013 from 1.29 MMbpd a year earlier, according to the U.S. Energy Information Administration (EIA). This actually led to many months in which record surpluses were reported.
"Production is obviously not the source of the problem," said Mark Bridgers, a design and construction consultant at Continuum Advisory Group. "The source of the issue is a confluence of events that if they had been separated by a period of weeks, we wouldn't even be talking about this now."
Those events included record-low winter temperatures throughout much of the United States that further increased propane demand, already intensified by the needs of farmers in the Midwest who used five times as much propane as usual to dry corn crops after an especially wet harvest season.
Among the non-weather-related factors contributing to the shortage was the increase in propane exports, which grew to 410,000 bpd in November, an increase of 34% over June, according to EIA data. By comparison, as recently as January 2012, propane exports totaled only 150,000 bpd.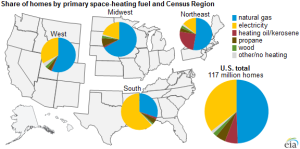 "In my mind, exports are not the driver," said Bridgers, who pointed to shipping changes and the loss of available rail cars and facilities that were already contracted to move NGLs and oil as bigger non-weather culprits.
Nonetheless, the National Propane Gas Association (NPGA), a trade association with 3,200 member companies in all 50 states, believes the effect of exports on the domestic market and its inventory levels needs further study and has hired an analysis group.
"We know that exports certainly played a role in what happened this winter, but we want to understand to the full extent how it did," said Mollie O'Dell, NPGA communications director, adding 2013 was the first year exports surpassed the amount of propane coming online.
"We have plenty of propane," O'Dell said, pointing out that from 2008-2014 propane production increased by 2.6 billion gallons. "What happened this winter was a perfect storm of events."
In response to the "perfect storm," which prompted at least 20 states to declare emergencies, in some cases modifying limits on how long propane delivery drivers could remain on the road, the Federal Energy Regulatory Commission (FERC) used its emergency authority under the Interstate Commerce Act.

Related Articles