March 2014 New Products
New products from ClockSpring, Verichek, Red Hen, Bracewell & Guiliani, Sensus, Itron, Axalta Coating Systems, Bredero Shaw, IntelliView Technologies, Valin and more.

ClockSpring
The Clock Spring Pipe Support provides a solution to integrity issues that can result from a diverse range of support configurations. The pipe support features a pre-cured three-layer composite sleeve which provides 360 degree protection; a high compressive strength filler material to eliminate voids and mitigate further corrosion growth; and a proprietary adhesive with high lap shear values to bond the sleeve to the pipe and to each individual layer of the composite. It eliminates crevice corrosion, galvanic corrosion, atmospheric corrosion and erosion. The supports mitigate corrosion on existing systems and act as a preventative measure on new line construction. http://clockspring.com.
Verichek Technical Services, Inc.


Verichek Technical Services, Inc., and its manufacturer, Oxford Instruments, recently launched the PMI-MASTER Smart, a metal analysis instrument that weighs 33 pounds, yet precisely analyzes metal in the field. The instrument is used by pipeline, petrochemical and utility professionals, especially people that must work within API 5L guidelines and use equivalent carbon content (CE). The portable arc/spark analyzer is a full-range optical emission spectrometer designed for hard-to-reach places. The rechargeable battery pack and compact transportation concept complement the mobility. (800) 477-4717, sales@verichek.net, industrial-analsyis@oxinst.com.
Red Hen
The Pipe-I Kit all-inclusive kit is used for pipeline patrol and monitoring through GPS-driven leak detection. Its hardware and software components include a Boreal laser, Red Hen Systems' VMS-333 with video recorder and MediaMapper 5.3 Video Edition. The VMS-333, the main component of the kit, can multiplex data from multiple devices, including GPS, sensors and infrared. This makes a simple flight exponentially valuable, since mapped results can contain data from every device used synced with high quality video. www.redhensystems.com.
Bracewell & Guiliani
Bracewell & Giuliani LLP has launched the ShalePlay app. Powered by the firm's energy and environmental attorneys and government relations professionals, the app offers news and information related to shale gas and hydraulic fracturing, including the latest industry trends and updates.
It includes news aggregated from a variety of sources, information on legislation and regulation, shale studies, an interactive map of shale plays, and analysis from firm attorneys. The app requires iOS 6.0 or later and is compatible with iPhone, iPad, and iPod touch. www.bgllp.com/shaleplay.
Sensus
The Sensus Auto-Adjust Turbo-Meter (AAT) provides field-proven performance, durability and accuracy in high-volume gas measurement. Ensuring consistent meter reading and billing accuracy in the face of unseen pipeline flow conditions protects gas utilities and their commercial customers from tens of thousands of dollars in inaccurate charges. The meter eliminates costly downtime and lost revenue by enabling service or complete module change-out in very little time. The compact design means the meter continuously monitors and adjusts itself for flow conditions and component wear. Patented dual rotor technology self-checks and automatically adjusts meter performance. The technology sends an alarm for deteriorating conditions and begins mitigating accuracy issues well before they can affect the customer. www.sensus.com.
Itron
Itron Analytics for gas is a managed service analytic application which uses data from Itron's gas meters, communication modules and sensing devices to provide actionable intelligence and insights that help utilities improve operational efficiencies and asset management. The service features a data store optimized for analytics, business intelligence dashboards and gas utility specific analytics. In addition, modules for revenue protection, district metering and cathodic protection help utilities better manage the delivery and use of gas. The analytic application has a simple, intuitive user interface to allow gas utility personnel to access and analyze critical information about their system. www.itron.com.
Axalta Coating Systems
Axalta Coating Systems' latest generation product can withstand continuous operating temperatures of 311°F. Nap-Gard High Tg 7-2555 is a thermosetting epoxy powder designed for use as a corrosion barrier coating for underground and sub-sea pipelines that operate in high temperature service. It can be used as a corrosion coating in a stand-alone or dual-powder coating system or as a corrosion coating under multi-layer insulation systems. When used in conjunction with the company's most recent dual layer system, the operating system tolerance increases to 356°F. The second layer ensures reduced water permeability and improved chemical resistance. The product is currently approved by operating companies in Mexico, Colombia and Venezuela. axaltacoatingsystems.com.
Bredero Shaw


Bredero Shaw's new onshore pipe coating, SureBond, was developed to match or exceed the performance of three-layer coating products. Formulated with a proprietary molecular structure, the coating is designed to provide better pipe protection and superior bonding with all field joints. It eliminates the often-problematic adhesive layer, while providing stronger, virtually permanent protection of the anti-corrosion layer.
The product line also performs across wide temperature range, from -94°F to 212°F, with superior low temperature bending and unsurpassed thermal cycling performance. www.brederoshaw.com/SureBond.
IntelliView Technologies


IntelliView's fluid leak detection technology can detect in real time small pipeline leaks that may not be uncovered by other leak detection technologies.The solution leverages multi-spectral cameras and video analytics to provide automated, real-time monitoring in areas of high risk. The technology is scalable to small, medium and large sites and can be configured for a variety of environments, such as unmanned pump stations, storage tanks or river crossings with leak and perimeter security. Analytic capabilities cover fluid leak detection (outdoor), color match detection and standard security analytics where virtual perimeters can be established around a facility. Spray, pool, or mist leaks can be accurately detected in six seconds within half a gallon of fluid, from cameras mounted up to 80 feet away. The technology ensures that control centers are sent alarms based on real-time video information collected directly from the site. www.intelliview.ca
Valin Corporation
Valin Corporation is in the final stages of successfully commissioning 65 Lease Automatic Custody Transfer systems (LACT) for an oil gathering project in the Myrmidon field in the Bakken Shale Play in North Dakota. When transferring oil from a producing oil field into the oil pipeline, truck or other oil transport method, precision measurement is critical. To ensure proper transfer, a midstream company may find it needs many LACT units over a short period of time. With experience in fields including fluid handling, process control, precision measurement, design engineering, pipe and skid manufacturing, program management and in-field service of units after startup, Valin has the expertise and capacity to fulfill such requirements. www.valinonline.com.
Ziff Energy
Ziff Energy, a division of Solomon Associates, has launched its inaugural Eagle Ford Shale Production Operations Benchmarking Study. The new study will analyze the operating costs and uptime reliability for production operations in the South Texas shale basin.This will be the company's first production operations benchmarking study for a shale basin, and it is intended to help Eagle Ford operators manage continuous improvement initiatives and identify opportunities to improve efficiency. Upon completion of the study, the company will conduct a Best Operating Practices Workshop for study participants. http://www.ZiffEnergy.com.
Cath-Tech


The Cath-Tech CorrReader data recorder can quickly and easily document critical cathodic protection data at test stations, rectifiers, risers, valves, tank bottoms, custody transfer points, bonds, and anywhere it can make a physical connection to the structure. The device records the on and off pipe to soil potential, AC voltages, GPS location, date, time and operator comments. Features include ergonomic water resistant packaging, USB communications, SD card memory, internal GPS and long life rechargeable battery. It is suited to routine test station surveys or random spot checks, and does away with hand-written field notes without special software. www.cath-tech.com.
Structural Integrity
Structural Integrity has released pc-CRACK 4.1, software that helps address fracture mechanics analyses in the energy industry. The software expands the capability of engineering staffs and allows users to rapidly perform sophisticated fracture mechanics analyses. Three versions have been released. The Microsoft Windows-based software allows the user to perform analysis that predicts flaw behavior, including calculation of crack growth rates and critical crack sizes for pressure vessels, piping, turbines, and structures, with immediate display of analysis results. One version's applications include codes and standards such as ASME Code Section XI flaw evaluations as well as weld overlay design. Full versions are available via licenses. The Lite version is free and offers some fracture mechanics models. www.structint.com/pc-CRACK.
First Subsea Ltd.


First Subsea Ltd. has announced the integration of the Hyperlast 101 Twin Sealing system with its range of pipeline recovery tools used to recover subsea flowline and gas export production pipelines to the surface. The twin polyurethane seals increase the tools' resilience and scope for long-term deployment in deepwater and ultra-deepwater. Key features of the twin sealing system include the primary and secondary composite seals, in combination with an internal check valve for shallow and deepwater applications. The tool's patented Ballgrab pipe grip mechanism is suitable for loads in excess of 1,200 metric tons. http://www.firstsubsea.com.
AGA
The American Gas Association (AGA) has released its 2014 Playbook, a handbook for understanding natural gas and how it can help achieve our nation's economic, environmental and energy security goals. The book contains the latest facts and data surrounding natural gas and its role in American life, including information about pipeline safety, supply and use, responsible resource development, economic benefits, emissions and energy efficiency. It also covers the history and properties of natural gas, its role throughout all sectors of the American economy including transportation, statistics about natural gas use, the natural gas industry's commitment to enhancing safety and the priority issues and strategies with respect to the production, transmission, distribution and increased use of natural gas. It contains facts and information about industry innovation and direct economic benefits including customer savings and industry-related job growth. http://www.aga.org/our-issues/playbook/Pages/default.aspx.
Journyx
Journyx has announced a customized time, expense and equipment tracking solution for the oil and gas industry. Accurate labor and equipment usage data gives companies the power to control lift costs and gain visibility into real-time service costs. The web-based project, time and expense tracking software provides for crew timekeeping, smartphone time entry, equipment tracking, and resource planning among other functions. The software will integrate with joint interest billing, accounting and payroll systems. A 30-day trial is available. (800) 755-9878, http://journyx.com/contact-us.
Enerpac


Enerpac's latest ATM-Series flange alignment tools offer enhanced safety and efficiency, helping reduce set-up time and installation costs where rotational misalignments and twists in pipeline are common problems. They are an improvement over earlier, alternate methods that could damage bolt holes. Three in the series were designed for use by a single operator without the need for an external power source, chains, slings or lifting gear. Perfect for most ANSI, API, BS and DIN flanges, their versatility allows effective use in any position. http://www.enerpac.com/en-us.
AUMA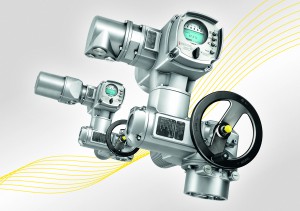 AUMA has announced the SQEx .2 explosion-proof part-turn actuator. In line with qualification requirements for hazardous environments, the product meets the European ATEX and International IECEx standards and will be submitted for certification in additional countries, including the Russian Federation, the United States, Japan and Canada. An explosion-proof SQREx version for modulating duty is now also available, providing enhanced positioning accuracy and an increased number of permissible starts per hour. Designed for butterfly and ball valve automation, the new series offers a significantly wider torque range, now covering 50 Nm to 2,400 Nm. Further enhancements include sophisticated diagnostics and asset management functionality. www.auma.com.
Practical Instrument Electronics


The PIE Model 830 is a multifunction calibrator and a "loop detective" able to diagnose common problems, such as a flooded junction box or unknown ground faults. It can also display all the parameters — milliamps, voltage and resistance — in the loop. As an isolated universal transmitter, the device's display will give sensor input, current output and whether any uncontrolled current exists in the loop due to a ground fault, corrosion bridge or moisture, which avoids the problem of throwing out functioning transmitters due to another problem in the loop. The instrument is accurate to 0.006 mA, Pt 100 Ohm RTD to 0.4°F. (585) 872-9350, sales@piecal.com, http://www.piecal.com/products/830/830.php.
Midland Carriers


The LF 660 Lay Flat Retrieval System will retrieve, deploy, and store 660 feet of 8 or 10-inch layflat hose on each reel, improving the safety and efficiency of handling polyurethane hose. A machine capable of 12-inch hose is under development and is expected to be in production by mid-March. The hydraulic powered arms are capable of lifting and controlling each reel, while automatic safety latches engage to ensure safe operation over most terrain. The device turns a skid loader into a layflat hose handling machine. (405) 330-4733, info@midlandcarriers.com, www.midlandcarriers.com.
ProSoft Technology
ProSoft Technology's Scalable Modbus Solutions for CompactLogix introduces scalable Modbus TCP/IP and Modbus Serial connectivity solutions, analogous to the scalable releases of processors by hardware manufacturers. The new modules feature remote connectivity over Ethernet. This lets a user configure and maintain the module without being on the plant floor. Each module also features an Add-On Profile which allows the user to quickly set up the module using Studio 5000/RSLogix 5000. MVI69E modules are designed for all applications. MVI69L modules are designed for smaller applications that need just the right amount of data to operate efficiently. www.prosoft-technology.com/69EL .