July 2014 What's New
New products and services from Minnich, MIRATECH, PipeLine Machinery, Schneider Electric, Ericson, 3M, FieldAware, Intertec, McElroy and more.

Minnich
The Hornet utility drill is an ergonomic solution for drilling gas leak detection and extraction holes. Lightweight, compact, and portable, it can drill through concrete, asphalt, brick, and dirt. A patent-pending frame and feed cylinder absorb drill vibrations. Other features include spring-loaded squeeze grip controls and a frame that feeds the drill in and out of the hole, allowing the operator to stand in an upright position. The drill uses pneumatic power to eliminate the hazardous combination of electricity and natural gas on the jobsite. http://www.minnich-mfg.com/products/the-hornet/the-hornet.
MIRATECH
MIRATECH has received California Air Resources Board Level 3 Plus Conditional Verification for its new diesel particulate filter system technology. The Low Temperature Regeneration technology is used by stationary diesel engine owners/operators and is optimized for low temperature generation, effectively oxidizing particulate matter or soot at a lower exhaust temperature than other options and trapping particulate matter at 85% efficiency or better. The new system does not require additional energy inputs, complicated control systems or custom integration with the engine; the filter is able to regenerate using only the oxygen and temperature in the exhaust gas stream. 800-640-3141, infor@miratechcorp.com, www.miratechcorp.com.
3M, Motorola


3M Peltor's 2-way communication headsets are designed for industrial users working in high noise environments. They feature bright neon ear cups filled with liquid foam for extended wear and comfort, a noise-canceling boom microphone with integral amplifier, a padded headband, durable plug assemblies and a noise reduction rating of 25 dB, although the company recommends reducing the NRR by 50% for estimating the amount of noise reduction provided. Motorola is now the sole distributor of the MT7H79 Direct Radio Connect Headsets. http://solutions.3m.com, www.motorolasolutions.com.
PipeLine Machinery, Caterpillar


PipeLine Machinery International (PLM) has released the utility-capacity 71H pipelayer in the Tier 4 Interim/EU Stage IIIB class, designed for lifting 60,000 lbs. Features include standard electro-hydraulic tractor control, dedicated hydraulics, differential steering and machine control systems; boom and hook draw works driven by independent hydraulic winches; a compact counterweight designed to provide maximum lift capability and optimum weight distribution; a drawbar able to accommodate a wide range of attachments, and Roll Over Protection Structure (ROPS) and Quick Drop function on load line control. www.plmcat.com.
FieldAware


FieldAware, a mobile solution for automating field service operations, has added features to support pipeline inspection, maintenance and construction processes. The native mobile software now offers mapping by latitude/longitude, customizable task reporting and logging features and time stamp, photo certification and maintenance documentation capabilities to improve productivity, safety and OSHA compliance. The software connects pipeline inspection and service workers with back office systems and is in service 24/7, with the ability to work off-line if a signal is not available or unreliable and synchronize with the back office immediately when a connection is made. www.fieldaware.com.
Intertec Instrumentation Inc.


Intertec's advanced passively-cooled shelters protect remote instrumentation points on pipelines using advanced glass reinforced polyester (GRP) sheeting sandwiching thick insulating foam. GRP is inherently inert and virtually immune to the corrosive effects of salt and aggressive chemicals, making it suitable for harsh environments. Cooling works by thermo-siphoning water, which is cooled and heated by the natural swing of day/night temperatures. A thermally-stratified tank is connected to two closed-loop thermo-siphon systems with internal wall-mounted and external roof-mounted heat exchangers. Water circulates by natural convection and shaves 20 degrees C off peak daytime temperature. A current Middle East project has deployed the shelters in a coastal location with high UV levels and temperatures, salt and chlorine as well as sulfur from the pipeline's natural gas media. Even though the shelter has a volume of 142m3, cooling is entirely passive. 832 243 0790, info@intertec-inst.com, www.intertec.info.
Schneider Electric, Invensys


Schneider Electric, which recently acquired Invensys, has released a new I/O family for its Foxboro Evo process automation system. The Compact 200 Series I/O fieldbus modules support more I/O modules in less space, reducing the system's footprint up to 50 percent and lowering weight and energy consumption. The new release is compatible with multiple generations of the family of controllers, software and infrastructure and allows operators to mix and match I/O types on the same controller. http://www.foxboro.com/foxboroevo.
MatrikonOPC


MatrikonOPC has announced the release of the enhanced MatrikonOPC Sever for Foxboro I/A, which now includes support for Foxboro I/A Series systems version 8.8. The server facilitates secure communication between OPC-enabled client software, such as HMIs, historians and reporting software, and Foxboro I/A devices. This update allows users of Foxboro I/A 8.8 and above to continue using OPC-based communication after its deprecation. www.MatrikonOPC.com
EnviroVault Corporation
EnviroVault Corporation has released the ThermoVault tank system, an alternative to the traditional firetube separation method of storing light volatile crude. The product's catalytic heaters use a flameless radiant heat system, allowing crude oil separation and storage in hazardous areas (Class 1, Zone 1). Since there is no need for a 25-foot safety margin between heater treater and tank, the product also reduces space requirements. www.envirovault.com.
Pergam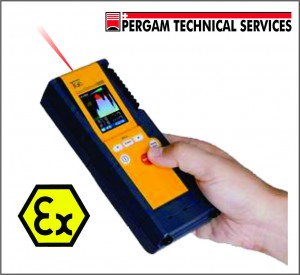 Pergam's Laser Methane Mini (LMm) remotely detects natural gases as far away as 300 feet. Both acoustic and visual alarms warn if a preset concentration is exceeded. The unit is self-calibrating, needs no periodical maintenance and is certified for use in intrinsically safe zones 1 and 2. Meanwhile, it saves time in difficult to reach areas such as pipes underneath bridges versus a traditional gas leak survey. www.pergamusa.com/LMm.
Sunnen


Sunnen has introduced a new small-diameter hone, the HTE honing system, designed to produce ideal bore geometry and surface finish, while eliminating problems from bad tool-to-part alignment and excessive feedrates that cause tool breaks and scrap parts. The new tube hone's one-piece base maintains tool/part alignment, while the feed system provides protection against tool overloading. Tool specific force limits and run settings are stored in the Windows-based touch-screen control. The feed system also senses tight sections in the part and corrects them automatically. The hone handles parts up to 60" long and has an ID range of 0.160-0.750". sales@sunnen.com.
American Sensor Technologies


Differential pressure (dP) transmitters measure the difference in pressure between two points and, when used with electronic signal processing, can monitor flow, filter condition and level. In pipeline monitoring, differential pressure transducers can monitor the rupture of a pipe and decrease in pressure. The AST5300 Explosion Proof Wet/Wet Differential Pressure Transmitter from American Sensor Technologies uses linear variable differential transformer (LVDT) technology and digital compensation to combine benefits of friction-free operation, environmental robustness and increased mechanical life. The pressure sensors can operate in a wide range of corrosive materials, radiation and temperature without oil filling or bulky sealing systems. www.astsensors.com.
McElroy


The new DataLogger Vault from McElroy allows users to safely and securely store fusion joint records in the cloud. Details are easily sorted for in-depth analysis of every fusion joint from a jobsite and are accessible from anywhere there is a connection to the Internet. The new vault is compatible with fusion joint reports from DataLogger 3, 4 and 5 units. Information gathered from joint reports can be used to validate that fusion joints completed are sound and ready for service. Graphs can quickly confirm if key parameters of the fusion process adhere to supported standards. The collected and analyzed data can aid in identifying costly errors before the pipeline is buried. www.mcelroy.com/datalogger.
Applus


The Applus RTD Rayscan Tankscan is a real-time digital radiographic inspection system which allows users to complete a full inspection of LNG storage tank welds in a single scan movement, producing a high quality image of each weld. No chemical processing of film is required and a steady scanning system is used for dynamic examination. The system is suitable for both horizontal and vertical welds and its rigid frame helps maintain alignment between the X-ray source and the digital line detector. The product has been designed to avoid vibrations, with a rigid frame and support wheels. A safe working distance of only three meters from the frame is achieved through a protective shield surrounding the X-ray source, beam and detector. www.applusrtd.com.
Ericson


Ericson Manufacturing has introduced the Oscar mini-e Temporary Power Distribution (PDU) Center, suitable for a broad range of temporary power applications. The unit provides configuration alternatives for high quality, safe temporary power with scalable current and power handling capabilities. It has a standard platform constructed of heavy-duty welded steel for harsh conditions. Designed for simplified plug-n-play use, the system requires minimal setup and teardown activity. www.ericson.com.