Pipeline & Gas Journals 2014 International Construction Report
P&GJ's 2014 international pipeline survey indicates 65,746 miles of pipeline are in various stages of construction or planned. Of these, 33,801 miles account for projects in the planning and engineering phase, while 31,945 miles are in various stages of construction.

Construction Overview
A breakdown of the pipeline mileage planned and under construction in the six geopolitical regions used in the report shows the following(see map): South-Central America and Caribbean – 6,099 miles; Middle East – 2,355 miles; Africa – 8,558 miles; Asia Pacific – 25,636 miles; former Soviet Union and Eastern European countries – 15,781 miles; and Western Europe and European Union countries – 2,381 miles. For further information on these and other pipeline projects, see P&GJ's sister publication, Pipeline News.
Africa
Despite several African nations continuing to deal with ongoing pipeline theft and threats to oil companies, industry analysts say many hold promise for future activity. For example, East Africa exploration activity is projected to increase after foreign oil and gas companies made a series of sizable discoveries in Mozambique, Tanzania, Uganda and Madagascar.
Moreover, the U.S. Energy Information Administration (EIA) estimates that South Africa holds 390 Tcf of technically recoverable shale gas resources. This came even after environmental concerns led the govern to place a moratorium on shale gas exploration from April 2011 to September 2012. In October 2013, the government released proposed new regulations on exploration of shale resources, however, international companies are still awaiting shale exploration permits.
Regardless of the challenges, pipelines are being planned and constructed in the region.
In Angola, ExxonMobil recently started up the CLOV project, expected to reach a capacity of 160,000 bpd. CLOV, located 87 miles off Luanda, includes 34 wells and eight manifolds connected by 112 miles of subsea pipelines to a floating production storage and offloading (FPSO) vessel and crude oil offloading terminal.
The 1,000-foot-long, 198-foot-wide FPSO can store up to 1.8 MMbbls of oil. Natural gas produced at CLOV is exported through a subsea pipeline to an Angola LNG plant in Soyo.

Technip is under contract to Total on the Moho Nord joint development project off the Republic of Congo. Located 46 miles southwest of Pointe-Noire in water depths of 1,500 to 4,000 feet, it is the largest ever in the region and involves the simultaneous development of the Moho Bilondo "Phase I bis" and Moho Nord projects. Phase I includes subsea wells tied back to an existing floating production unit with a processing capacity of 40,000 bpd.
The Moho Nord project involves a tension leg platform, a floating production unit with processing capacity of 100,000 bpd and a 50-mile pipeline to the onshore Djeno terminal. The joint development will produce 140,000 bpd at its peak in 2017.
In Ghana, AECOM Technology Corp. won a $15.6 million contract from Ghana National Gas Co. for the Western Corridor Gas Infrastructure Development. The project includes a 27-mile shallow water section of offshore pipeline from Jubilee field to Atuabo, a gas processing plant at Atuabo, a 68-mile onshore pipeline from Atuabo to Aboadze, a 46-mile onshore lateral pipeline from Essiama to Prestea, a natural gas liquids export system in Domunli and other infrastructure, such as storage facilities and an office complex.
Italy's gas network Snam Rete Gas and the Galsi consortium started construction of a 560-mile pipeline to transport Algerian gas to Italy. Of this, 373 miles will be a subsea pipeline section from Algeria to south of Sardinia in water depths of about 2,800 meters. The Italian section across Sardinia includes an undersea link to Tuscany where the pipeline will connect to the Italian national transport network. The initial transport capacity will be 8 Bcm/y.
Southwest of Algiers, Petrofac is constructing the gas gathering, treatment and export facilities for the Reggane North Development project, located in the Reggane Basin of the Algerian Sahara desert. Groupement Reggane, a partnership comprised of Algerian state-owned company Sonatrach, Spain's Repsol, Germany's RWE Dea AG and Edison of Italy, plan to bring the project on stream with 26 wells in the Reggane, Kahlouche, Kahlouche South and Azrafi l South East fields. It will also involve construction of a 62-mile, 24-inch gas export pipeline from Reggane to Dorsal.
Middle East
Saudi Arabia refiners and petrochemical producers plan to increase exports to Asia because the United States has become more energy self-sufficient. Just as Saudi Arabia is working to increase exports, other Middle East countries are as well.
Not surprisingly, much of the focus in the Middle East is on development of the Shah Gas Development in United Arab Emirates – one of the largest natural gas fields in the Middle East.
Abu Dhabi National Oil Company (ADNOC) and joint venture partner Occidental Petroleum are developing the multibillion-dollar gas field to provide feedstock for new power, desalination and petrochemical plants in Abu Dhabi and the northern emirates. Italy's Saipem won the EPC contracts for the gas processing plant, sulphur recovery unit and nearly 155 miles of related pipelines. A joint venture of Spain's Tecnicas Reunidas and India's Punj Lloyd won a contract to construct the gas gathering pipelines.
The project is targeting production of 1 Bcf/d of sour or sulphur-rich gas in late 2014 or early 2015.
Abu Dhabi Gas Industries has contracted with Dodsal Engineering & Construction to install two gas pipelines under a $764 million contract. The 52-inch, 185-mile pipelines will extend from Habshan to Maqta and then to Taweelah. The project is scheduled for completion by June 2015.
The National Iranian Oil Engineering and Construction Company is building a 941-mile pipeline to transport oil from the Caspian port of Neka to Jask in the Gulf of Oman; initial capacity will be 1 MMbpd.
Although work is underway on the 488-mile, 43-inch Iran-Pakistan (IP) gas pipeline, reports indicate completion may be delayed a full year due to sanctions imposed on Iran and because Pakistan fell behind on constructing the 435-mile segment of pipeline in its territory. Once completed, the IP pipeline will transport 1 Bcf/d of gas from an offtake point near Gawadar at the Pakistan-Iran border to Nawabshah, where gas will be injected into Pakistan's gas transmission system.
In the Persian Gulf, Petropars won a contract from operator Total South Pars to develop Phase II of the South Pars gas field. The contract includes installation of two wellhead platforms, drilling 12 wells on each facility and construction of two 84-mile, 32-inch pipelines to export produced gas to shore.
South Pars Phase II is scheduled to deliver 70 Bcf/d of sour gas and 80,000 gpd of gas condensate beginning in 2017.
Asia Pacific
The 2014 Energy Information Administration Outlook projects major economies are likely to become increasingly reliant on imported liquid fuels and natural gas. According to the report, China and India will each import at least 65% of their oil and 35% of their natural gas by 2020 – thus becoming more like Japan, which relies on imports for more than 95% of its oil and gas consumption.
In 2013, China National Petroleum Corp. (CNPC) began construction on a third west-to-east natural gas pipeline. It will be more than 3,107 miles long with a capacity of 30 billion cubic meters per annum (Bcma). The pipeline, which will be supplied with gas from central Asia, will originate at Horgos in Xinjiang and terminate at Fuzhou in Fujian. Commissioning is scheduled in 2015.
CNPC has also proposed the fourth and fifth west-to-east gas pipelines, reportedly in the planning phases and expected to have a capacity of 45 Bcma.
In May, Russian petroleum joint venture Vietsovpetro signed an EPC contract for the offshore segment of the Nam Con Son 2 gas pipeline project with PetroVienam Gas Corp. A framework on an EPCI contract for the Dai Hung gas collection project with PetroVietnam Exploration and Production was also made.
The $1.3 billion project includes 200 miles of offshore and 198 miles of onshore pipelines. It is expected to begin operation in June 2015.
In Indonesia, Technip is involved in an offshore campaign for ENI Muara Bakau B.V. in the Makassar Strait. The contract covers installation and commissioning of 195 km of rigid pipeline with diameters ranging from 4-24 inches, 36 km of flexible risers and flowlines, subsea equipment, and onshore receiving facilities. Completion is expected early in 2017.
A group of Japanese lawmakers has shown renewed interest in a long-planned gas pipeline between Sakhalin Island and Japan. The 1,350-km pipeline will stretch from the southern extremity of the island via the ocean bed to the island of Hokkaido, and then via the northern regions of the island of Honshu to the city of Hitachi, Ibaraki Prefecture, 150 km from Tokyo.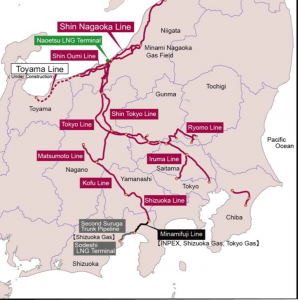 The Bloomberg news agency reported the project would cost $6 billion and could be implemented in five years.
Australia/Papua New Guinea
Australia's activity is firmly focused on LNG with seven facilities in various states of development. Four draw from gas fields off the north coast of Western Australia (Grogon, Prelude, Wheatstone and Ichthys) and three are in Queensland (Queensland Curtis LNG, Gladstone LNG and Australia Pacific LNG).
In all, Australia has more than $200 billion worth of LNG projects in various states of construction. The Ichthys LNG project is one of the seven facilities being developed by a joint venture among INPEX group companies (operator), major partner Total and the Australian subsidiaries of Tokyo Gas, Osaka Gas, Chubu Electric Power and Toho Gas.
Gas from the Ichthys Field will undergo preliminary processing offshore to remove water and raw liquids including condensate. The gas will then be exported to onshore processing facilities in Darwin via an 889-km pipeline installed in 275 meters of water, making it the longest subsea gas pipeline in the Southern Hemisphere and fifth-longest in the world.
The Ichthys LNG project is expected to produce 8.4 million tons of LNG and 1.6 million tons of LPG per annum, along with 100,000 bpd of condensate at peak. First production is scheduled by the end of 2016.
In Papua New Guinea, Esso Highlands, a subsidiary of ExxonMobil and operator of the PNG LNG project, is on track for the first LNG delivery later this year. At completion, more than 435 miles of pipelines will link Highlands gas to a liquefaction storage and marine facility 12 miles northwest of Port Moresby. About 6.2 mtpa of LNG will be shipped to the Asian markets.
Former Soviet Union/Eastern European Countries
Nations in Eastern Europe and the former Soviet Union are constructing extensive pipeline networks to export oil and gas to Europe and the Asia Pacific region.
One example is South Stream, Gazprom's 2,400-km, multibillion-dollar global infrastructure project featuring a 63 Bcma gas pipeline across the Black Sea to southern and central Europe to diversify export routes and eliminate transmit risks.
The project, backed by Russia's Gazprom (50%), ENI S.p.A., Italy (20%), EDF, France (5%) and Wintershall Holding GmbH (Basf Group), Germany – 15%, is not without its problems. The European Commission has ordered a construction moratorium due to concerns over Russia's dual role as pipeline owner and gas supplier, and the crisis in the Ukraine.
However, a recent Associated Press story pointed to a group of countries breaking ranks with the Europe Union's efforts to put economic and diplomatic pressure on Russia over Ukraine. Austria, Hungary and Serbia — the first two EU members, the third a candidate to join — are reportedly planning to build sections of the project while others may follow.
Additionally, Gazprom announced the award of related construction projects to Saipem, which will build four parallel gas pipelines across the Black Sea from Russia to Bulgaria, each 578 miles long. Offshore pipeline construction is scheduled to start later this year with completion of the first expected in the third quarter 2015. At the end of the same year, the first line is scheduled to be commissioned.
Recently, Centrgaz, a subsidiary of Russian gas giant Gazprom, signed a contract to construct the 900 km South Stream gas pipeline through Serbia. It is expected to reach capacity in 2018.
Development is underway of the giant Shah Deniz Stage 2 project to bring gas directly from Azerbaijan to Europe for the first time, opening up the Southern Gas Corridor. A consortium led by BP and the South Caucasus Pipeline Company awarded $735 million in contracts for 300 miles of pipelines and associated infrastructure in Azerbaijan and Georgia to a joint venture group made up of Italy's Saipem and Azerbaijan's Azfen.
Once completed, 1,625 Bcma of gas produced from the Shah Deniz field will be transported to Georgia, Turkey, Greece, Bulgaria and Italy. First gas is targeted in late 2018.
Transneft is constructing the 435-mile Kuyumba-Taishet and 311-mile Zapolyarye-Purpe pipelines that will send oil to the Asia Pacific. Completion of both is expected by the end of 2016. Novatek, Russia's second-largest gas producer, is developing the $27 billion Yamal LNG project with Total and China National Petroleum Corporation. The first production unit, with annual capacity of 5.5 million tons, will launch in 2017.


State Oil Company of Azerbaijan (SOCAR), Petroleum Pipeline Corporation of Turkey (BOTAS) and Turkish Petroleum Corporation (TPAO) awarded WorleyParsons a five-year contract for engineering, procurement and construction management services for the 1,144-mile Trans Anatolian Natural Gas Pipeline project. TANAP is designed to transport Caspian natural gas from the Georgian-Turkish border to Turkey's western border with Greece. Initially it will carry production from Azerbaijan's Shah Deniz Stage 2 project.
Western Europe, European Union Countries
Shale gas in Europe could add as many as 1 million jobs to the economy, make industry more competitive and decrease the region's dependence on energy imports, according to a recent study commissioned by Open Government Project (OGP) and carried out by independent consultancies Poyry Management Consulting and Cambridge Econometrics.
While shale gas is not expected to increase near-term pipeline construction activity, EU countries are pursuing major pipeline investment programs. Poland's Gaz-Systems plans to construct 2,000 km of gas pipelines from 2014-2023 in western, southern and eastern Poland.
Poland also plans to undertake new gas connections with EU member states, including the Czech Republic, Slovakia and Lithuania. Gaz-Systems is arranging funding for work to be carried out after 2014.
On the Norwegian Continental Shelf, Statoil is constructing the 298-mile subsea Norwegian Sea Gas Infrastructure Pipeline in the Luva field. Production is anticipated in 2016. Statoil and partners are involved in construction of the Edward Grieg and Ivar Aasen fields. Oil will be transported via a 26-mile pipeline from Edward Grieg to the Grane Oil Pipeline and then to the Sture terminal.
In the Norwegian North Sea, Total has started development of the Hild field. The development is in 115 meters of water and calls for an integrated wellhead platform with dedicated storage for water reinjection. Oil will be exported via tankers. Gas will be moved via a new 44-mile pipeline connected to the existing Frigg terminal in the UK North Sea.
South And Central America/Caribbean
Several projects are planned and under construction in South and Central America and the Caribbean. Supporting the work is the Petrobras 2014-2018 business plan calling for US$10 billion to be spent in the oil and gas sector. This will include pipelines from the Pre-Salt area, such as the 380-km Rota 3 pipeline, which will connect natural gas and oil fields in the Santos basin just off the coast of Rio de Janeiro with the Comberj refinery in Itaborai. Completion is expected for 2016-17.
Petrobras has contracted with Saipem for construction of the subsea facilities for the Lula, Lula Norte, Lula Sul and Lula Extremo Sul projects located in the Santos Basin Presalt region, 186 miles from the coasts of Rio de Janeiro and São Paulo states. Saipem will install three offshore pipelines, associated pipeline end terminations and freestanding hybrid risers for the gas export systems to be installed in the Lula field in depths of up to 2,200 meters. The Saipem FDS2 vessel will handle most of the offshore installations in the 2016.
In Colombia, the second and third phases of the 450,000-bpd Bicentenario pipeline are expected to start operating in late 2015 or early 2016. When completed, the $4.2 billion pipeline will transport heavy crude from the Llanos foothills and the lowlands of Casanare. Bicentenario is also constructing two 600,000-bbl storage tanks at Covenas.
Related Articles