Projects Reflect Midstream Expansion, Restructuring
Growth in production of domestic light crude and increased exportation of heavy crude led to substantial additional investments in pipelines and other midstream infrastructure during the year, according to data from the federal Energy Information Administration (EIA).

The energy industry boasts about $23 billion in liquid pipelines that are underway in 2013, due in large part to the shale revolution. That's an increase of $4 billion over last year with further growth expected.
In fact, projections from EIA's Annual Energy Outlook point to restructuring in the North American midstream sector rather than simple expansion, as regions that were net consumers – such as the Northeast – find themselves becoming net producers, thereby trigger a shift in long-time production flows. Meanwhile, the Southeast is becoming a growing demand center after years as a major gas supplier.
As a result, some anticipated pipelines are being placed on hold because natural gas pipeline companies don't build without long-term transportation contracts in place.
EIA projections through 2040 show demand-production upheaval having distorted prices, leading to a midstream infrastructure imbalance – this is especially true where the Cushing bottleneck is concerned. As a result, some pipelines, such as the Rockies Express, which moves natural gas to the Midwest, has lost demand to Marcellus and Utica shale producers – a region that has grown a remarkable 10 Bcf/d in the last four years.
The growth of North America's position among LNG exporters is expected by some analysts to result in further adaptation on the part of midstream companies as the demand to ship gas to coastal liquefaction plants increases. This will likely result in more mergers as companies look to better financial positions.
While not all-inclusive, here is a list of projects affecting the midstream landscape over the next few years:
Pipelines
Allegheny Access Pipeline, Sunoco Logistics Partners
Specifics: An 85,000-bpd pipeline, expandable to 110,000 bpd, to run 160 miles from the Midwest to eastern Ohio and western Pennsylvania. Sunoco expects startup during the first half of 2014.
Bakken Pipeline Expansion Project, Enbridge
Specifics: Completed in March and in service, the $560 million pipeline adds 145,500 bpd in pipeline capacity in western North Dakota. The infrastructure includes 26 miles of 16-inch pipeline between Enbridge stations near Tioga and Stanley, 29 miles of 16-inch pipeline between Stanley and Berthold terminal. There is also a separate $145 million rail expansion, adding 80,000-bpd capacity, allowing Berthold to handle three unit trains at a time.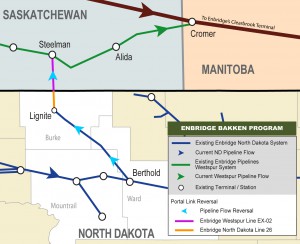 BridgeTex Pipeline, Occidental Petroleum and Magellan Midstream Partners
Specifics: The 300,000-bpd pipeline from the Permian Basin to Houston-area refineries with access to the Houston Ship Channel and other parts of Texas is underway with a startup targeted for July 2014. The $1 billion project includes construction of 2.6 MMbbl of crude storage.
Cline Shale Pipeline System, Centurion Pipeline
Specifics: 100 miles of new pipeline is expected to carry 75,000-bpd capacity of crude from West Texas to Centurion's Colorado City, TX station. A second quarter 2014 startup is projected.
Eagle Ford Pipeline, Plains All American
Specifics: With a targeted capacity of 350,000-bpd take-away from western Eagle Ford to refineries in Three Rivers and Corpus Christi, the 140-mile pipeline is now operational. In addition to the main line, a new 35-mile segment from Three Rivers runs to Enterprise Products Partners Lyssy station in Wilson County. There is also a marine terminal at Corpus Christi and 1.8 MMbbl of operational storage across the system.
Galena Park-Houston Gulf Coast system, Magellan Midstream Partners
Specifics: The $50 million project would entail a 140,000-bpd pipeline along with a terminal system at Galena Park, TX to ship crude from Magellan's pipeline system to Texas City and Houston refineries. A startup is projected for mid-2014.
Gulf Coast Pipeline Project (southern leg of Keystone XL), TransCanada
Specifics: With an initial capacity of 700,000 bpd, expandable to 830,000 bpd, the 485-mile, 36-inch pipeline from Cushing, OK to Nederland, TX began in August 2012 and is nearing completion. The $2.3 billion effort includes a 48-mile lateral pipeline to Houston.
Mississippian Lime pipeline, Plains All American
Specifics: The 175,000-bpd pipeline, which runs 135 miles from near Alva, OK to a Plains storage facility at Cushing, began operating Aug. 1. A 55-mile extension is expected to begin service to growing production in the Mississippian Lime play of western Oklahoma and southwest Kansas by year's end.
Pecos River Pipeline, Blueknight Energy Partners
Specifics: The 150,000-bpd, 16-inch pipeline started up in late September, operating under a long-term service agreement with Advantage. The 70-mile Pecos-to-Crane, TX line connects to Magellan Midstream Partners' reversed Longhorn Pipeline, moving Permian Basin crude to the Gulf Coast. A 95-mile extension is expected to move forward as demand grows, moving crude from southern New Mexico to Pecos.
Permian Express, Phase I, Sunoco Logistics Partners
Specifics: This 90,000-bpd pipeline is expected to reach 150,000 bpd by the end of the year, running from Wichita Falls to Nederland, TX. A second phase is in open season and would involve 300-400 miles of new pipeline, pending shipper interest. The expansion, originating at Midland, Garden City and Colorado City in West Texas, would connect to several pipelines and move Permian crude to markets and refineries in the Midwest and on the Gulf Coast. It would start up in the second quarter of 2015.
Pony Express Pipeline, Tallgrass Development
Specifics: 430 miles of converted natural gas pipeline and 260 miles new 24-inch pipe will carry between 239,000 bpd and 320,000 bpd of Bakken crude from Guernsey, WY to Cushing starting in August 2014. Construction of the project is expected by year's end.
South Texas crude oil expansion, NuStar Energy
Specifics: An extended open season ended Sept. 30 on a pipeline to originate at a to-be-built 100,000 bbl NuStar terminal near Pawnee, which will connect to existing 12-inch pipelines between Pettus and Three Rivers, and NuStar's Oakville terminal for crude delivery to the company's North Beach terminal. The $100-120 million project includes truck-receiving facilities at the Pawnee and Oakville terminals. The pipeline is scheduled to be online by the third quarter of 2014.
Sweeny Lateral, Kinder Morgan Energy Partners
Specifics: The 100,000 bpd capacity, 12-inch lateral pipeline to the 247,000 bpd Phillips 66 refinery in Sweeny, TX from Kinder Morgan's crude condensate pipeline will cover 27 miles and is expected to be in service by year's end. The project includes truck offloading facilities in Dewitt County and four storage tanks in Wharton County with 480,000 bbl of capacity.
West Texas System, Sunoco Logistics Partners
Specifics: Three separate pipelines to ship Permian Basin crude to the Gulf Coast: a 40,000-bpd, expandable to 44,000 bpd West Texas to Houston line is operational; a 30,000-bpd West Texas to Longview Access to the Mid-Valley pipeline to the Midwest is operational; and West Texas to Nederland pipeline, delayed by ExxonMobil's late March shutdown of the Pegasus line, where the pipeline connects.
Western Oklahoma Extension, Plains All American
Specifics: This 75,000-bpd extension of the company's Oklahoma pipeline system covers 95 miles from Orion to Reydon at the state's western border, providing access to the Granite Wash and Cleveland oil sands plays. It is supported by long-term producer commitments and should be online early in 2014.
Expansions
Gardendale Gathering System, Plains All American
Specifics: Four 6- to 10-inch gathering pipelines, covering 90 miles from Dimmitt and La Salle counties in Texas, will connect Gardendale to pipelines that deliver crude oil to refineries in the Houston, Corpus Christi and Three Rivers areas. The project will account for 115,000 bpd in incremental gathering capacity. The $190 million expansion was completed in stages through 2013 with a 40-mile Gulf Coast crude oil pipeline originating from Plains' Ten Mile terminal in Mobile, AL expected to be in service by year's end.
Permian Basin projects, Plains All American
Specifics: Various links under construction through late 2013 will expand crude oil lines in the Permian Basin and expand capacity in Texas by 150,000 bpd.
Toledo Pipeline, Line 79, Enbridge
Specifics: The pipeline system expansion – online since May – originates near the city of Stockbridge, MI, extending east and south, terminating at a new meter station site near the city of Romulus. It consists of 64 miles of new and existing pipeline designed to handle an average flow rate of 80,000 bpd. The $190 million project includes new station facilities at the existing Stockbridge and Freedom Junction Stations, and at a new meter station site near Romulus.

White Cliffs Pipeline, SemGroup Corp
Specifics: A 12-inch expansion will loop the existing 72,000 bpd pipeline that runs 527 miles from Platteville, CO to Cushing, bringing total capacity to 150,000 bpd. Startup is scheduled for the first half of 2014.
Reactivation
Silver Eagle Pipeline, Blueknight Energy and Silverado Pipeline
Specifications: The project brings 200 miles of existing 10- and 12-inch crude oil pipelines between Longview, TX, and Houston back in service. Startup is expected in May 2014.
Reversals
Houma-to-Houston pipeline, Shell Pipeline
Specifics: The Houma, LA-to-Houston reversal allowed deliveries of crude from connecting pipelines and terminals in Houston to Nederland and Port Arthur early in the year. The second phase, extending the reversal to move crude from Texas to Louisiana is expected online by year's end. Phase 3, which will add pumping capability and boost the line's capacity to 300,000 bpd is targeted for 2015. A limited supplemental binding open season on Phase 4 offering only rates from Nederland to St. James-Clovelly ended Oct. 16.
Eaglebine Express, Sunoco Logistics Partners
Specifics: Sunoco Logistics recently held an open season to determine shipper interest in a project to provide takeaway capacity for the growing production of the Eaglebine and Woodbine crude areas to the Nederland, TX, including Sunoco the company's terminal there. The plan calls for a portion of the existing refined products MagTex pipeline to go into crude service, reversing the flow of the pipeline from Hearne to Nederland. The pipeline is expected to have initial capacity of 60,000 bpd in mid-2014.
2015
Cactus pipeline, Plains All American
Specifics: Initially a 200,000-bpd pipeline to be expandable depending on demand, the 20-inch pipe will run from McCarney to Gardendale, TX. Startup on the $350 million project is anticipated early in 2015.
Eastern Gulf Crude Access Pipeline, Energy Transfer Partners and Enbridge
Specifics: The $1.5 billion project will reverse a 30-inch natural gas pipeline to carry Bakken and Canadian crude from Patoka, IL to St. James, LA for refinery markets along the Louisiana Gulf Coast and Mississippi River areas. The pipeline will cover over 700 miles, including a new lateral from near Boyce, LA to St. James. In all, about 574 miles of pipeline will be converted to go with 40 miles of new 30-inch pipeline from the Patoka, IL hub to the northern end of the converted trunkline and 160 miles of new 30-inch pipeline to the St. James hub. Capacity will reach 420,000 bpd with a June 2015 startup planned.
Keystone XL, north, TransCanada
Specifics: The 36-inch, 1,179-mile pipeline, running from Hardesty, Alberta to Steele City, NB, with a potential to move 830,000 bpd awaits a presidential permit. If the permit is granted by the end of the year, most analysts expect a 2015 startup for the $5.3 billion pipeline.
Southern Access Extension, Enbridge
Specifics: A 300,000-bpd pipeline from the company's Flanagan, IL to an existing crude oil terminal near Patoka is scheduled for an early 2015 startup with construction beginning in mid-2014. At a cost of $800 million, the pipeline will run about 165 miles.
U.S. Mainline, Line 62 expansion, Enbridge
Specifics: Construction of a 76-mile pipeline using up to 36-inch pipe twinning with the existing Line 62 (Spearman North) is planned for a mid-2015 startup. Running from Flanagan to Griffith, IN the 130,000-235,000 bpd capacity could bring Line 61 up to its full 1.2 MMbpd potential.
Westward Ho, Shell Pipeline
Specifics: The 300,000-bpd, expandable to 900,000-bpd, pipeline will run from St. James, LA to Houston with a third quarter 2015 startup planned.
2016
Eastern Access, Line 6B expansion, Enbridge
Specifics: About 210 miles of existing 30-inch pipe in Indiana and Michigan will be replaced to boost transportation capacity and improve integrity. The 6B component should increase capacity to 570,000 bpd in early 2016.
Sandpiper Pipeline, Enbridge
Specifics: The proposed 375,000-bpd Bakken shale region to Superior, WI pipeline, running 610 miles, is tentatively scheduled for early 2016 startup at a price tag of about $2.5 billion.
Southern Trails Pipeline conversion, Questar Pipeline
Specifics: The conversion will affect a 485-mile section from San Juan Basin in New Mexico to Southern California near Essex, which is used for natural gas despite low volumes. A 2016 startup for the 120,000-bpd change-over is expected, pending review.
Cancellations
Freedom Pipeline, Kinder Morgan
Specifics: The 277,000-bpd project, expandable to 400,000 bpd, would have included conversion of 740 miles of natural gas pipeline to crude, 22 miles of new pipeline for interconnections in California, and 200 miles of new pipeline between Wink and El Paso, TX. Also planned were new tank facilities in Texas and delivery points in California. The $2 billion project, scheduled for late 2014 startup, was abandoned May 31 after shippers failed to express enough interest.
Niobrara Falls Project, NuStar Energy
Specifics: Lack of shipper interest led to cancellation of plans for new crude oil pipelines from gathering locations in the Niobrara Shale near Platteville and Watkins, CO to a tie-in with the company's refined products pipeline, running from McKee, TX to Denver. Set for 2013 and early 2014, the project would have meant 70,000-75,000 bpd capacity for Colorado and 125,000-130,000 bpd for Wichita Falls.
Related Articles