What's New In Pigging
Pigging technology and services from Russell NDE, ROSEN, Greene's Energy Group, Enduro, Inline Services, Clock Spring, NDT Systems & Services, Team Industrial Services and GeoCorr.

Russell NDE
Russell NDE has added 3-D visualization of defects to its Adept-Pro Multi-Channel software to help data analysts find and assess the size of defects. The screen capture shows three calibration defects in a 4-inch pipeline. The new software is free to customers who have purchased the company's device for detection of internal pitting and Corrosion under Insulation (CUI) on pipes of any diameter, or any of its multi-channel RFT-ECT instruments for ferrous and non-ferrous tube inspection. (780) 468-6800, info@russelltech.com, www.russelltech.com.
Inline Services


Inline Services' RS-PigSig is a portable non-destructive detector for extremely low frequency (16-30 hertz) transmitters and magnets with ultra-high noise immunity. Crafted with aircraft grade aluminum, the detector is lightweight, non-intrusive, requires no "hot permit" and can be mounted temporarily or permanently. (281) 401-8142, www.inlineservices.com.
Clock Spring


Clock Spring has developed a method to ensure a composite repair zone is detected during periodic inspection of pipelines. The procedure places additional metal marker bands in close proximity to the pipe so that magnetic flux leakage (MFL) inspection tools can detect this additional metal and provide a reference signal in the recorded data. This marker band system is quick and easy to install. marketing@clockspring.com, www.clockspring.com.
NDT Systems & Services
NDT Systems & Services has announced the opening of its Global Data Analysis Center in Mexico City. The new operational unit will serve as the company's global hub for analysis of pipeline data gathered by pipeline inspections worldwide. The center enables the company to respond to a customer's onshore and offshore pipeline integrity requirements with significantly reduced delivery times. The company has about 500 specialists in various countries, and its inspection fleet provides the entire inspection service spectrum for onshore and offshore pipelines. www.ndt-global.com.
Enduro Pipeline Services


The Digitel Data Logger (DdL) offers both radius-point readings and diametrical cross-sectional analysis. Multiple channels are provided, offering the ability to log pipeline anomalies in clock orientation. Gyro inputs provide the ability to determine bend radii and bend direction – the angle of the bend is also determined. (918) 446-1934, www.enduropls.com.
Team Industrial Services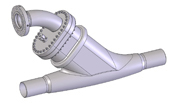 Team Industrial Services' Pipeline Pigging Wye is a temporary station for launching and retrieving pigs. Most oil and gas pipelines have launch and receive stations permanently installed primarily to remove the various contaminants from the pipeline wall. Typical launch/receive stations are a large investment in piping and facilities with little payback. They require a large permanent footprint with possible land acquisition and require ongoing maintenance of the facilities. This product is designed for a small footprint and is available in sizes for line diameters from 4-26 inches. It is fabricated with 3-D bends to accommodate all pigs, including cleaning and smart pigs. (800) 662-8326, www.teamindustrialservices.com.
ROSEN


ROSEN announced that it has developed a 48-inch pipeline inspection tool especially for the Nord Stream pipeline. The tool completed a 760-mile inspection on the pipeline in 10 days, for an average speed of about 5 feet per second. The company said that this is a new world record for longest inspection. The tool weighs 7 tons and is nearly 23 feet long. It uses high-resolution measurement technology, which produced one terabyte of data over the 760-mile run. www.rosen-group.com.
GeoCorr


Combined with its high-resolution geometry tools, GeoCorr has added to its technology with MFL sensors, which provide reliable coverage with 0.25-inch spacing. The GeoCorr MFL/Geo tool uses internal vs. external (IDOD) discrimination sensors to determine whether the location of metal loss is on the inside or the outside of the pipeline. The tool is 1.5 D back-to-back bend capable and 25% collapsible. Calculations for burst pressure are available in B31G, B31G Mod (0.85) or RSTRENG format. (281) 501-6960, sales@geocorr.com, www.geocorr.com.
Greene's Energy Group
Greene's Energy Group says it can provide pigs on short notice, including specialty and custom pigs for special cleaning or testing needs. The company's cleaning process includes non-aggressive poly pigs and a progressive pigging program to prevent restriction of pipeline flow, pig tracking and visual assessment after a run, measurements to assess the cleanliness of the pipeline, chemical cleaning and debris removal. The company uses rare earth permanent magnets (Neodymium-Iron-Boron or Nd2Fe14B) on magnetic cleaning pigs to remove the maximum possible ferrous debris. (281) 598-6830, www.greenesenergy.com/oil-gas-services.
Related Articles