Explorer Pipeline Marks 40th Anniverary
One of America's energy pioneers celebrates its 40th anniversary this fall. Explorer Pipeline, which stretches from Lake Charles, LA to just outside of Chicago, shipped its first product on Oct. 25, 1971.

Tulsa, OK-based Explorer, either directly or through its connections with other pipelines, serves more than 70 population centers in 16 states from the Gulf Coast to the Midwest. Today, the pipeline extends 1,900 miles and handles up to 677,000 bpd of refined products, i.e., gasoline, jet fuel and diesel fuel. Explorer has historically supplied 10% of the demand for refined products in the Midwest.
Explorer Pipeline was formed by eight oil companies seeking a safe, efficient means to ship their products to population centers in the Midwest. Shareholders now include subsidiaries of Chevron, American Capital, ConocoPhillips, Marathon, Sunoco Logistics and Shell.
Explorer received authorization to build the pipeline on April 1, 1970 and immediately began acquiring right-of-way. Construction began five months later, in September 1970, on the southern section of the line, which stretched from Lake Charles to Tulsa. Construction of the northern leg, running from Tulsa to Hammond, IN, began in May 1971.
Explorer completed initial construction of its line within 20 months. Costs were kept below the company's $200 million budget, despite newly enacted Department of Transportation regulations governing construction which added an estimated $2 million to the final tab.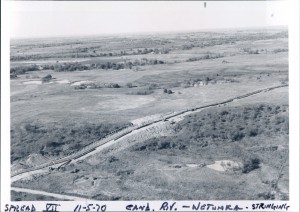 Explorer spent $7.2 million on environmental projections and used existing right-of-way whenever possible, in order to minimize the number of impacted property owners. The project faced no significant courtroom challenges or regulatory delays.
Explorer shipped its first product – from Lake Charles to Port Arthur, TX – on Oct. 25, 1971 while work was still being completed on the pipeline's northern leg.
In 1973, in response to market changes caused by the Arab oil crisis, Explorer Pipeline became the first company to ship both crude oil and refined products.
"Moving crude and petroleum products in the same pipeline enabled us to use our excess capacity and thus operate more efficiently," explained Rod Sands, president and CEO of Explorer Pipeline. "Explorer pioneered the process for batching and transporting refined products and crude oil in the same pipeline. What we did then remains the model for what many other pipeline companies do today."
Explorer no longer transports crude but does handle refined products with more than 72 different specifications for nearly 60 different shippers.
Explorer operates 37 pumping stations along the pipeline, has major storage facilities and provides service to terminals in several cities across the United States, including Port Arthur, Houston, Greenville, Arlington and Grapevine, TX; Glenpool, OK, Wood River, IL and
Hammond, IN. The company employs more than 190 individuals.
The pipeline is 28 inches in diameter from Port Arthur to Tulsa, augmented with additional capacity on a 10-inch line between Houston and Arlington, and a 24-inch line from Tulsa, Oklahoma to Hammond. With its 2003 capacity expansion, it can take as few as 11 days to transport a barrel of product from the Gulf Coast region to Chicago. The company moved 160 million barrels of product moved in 2010 and forecasts that it will transport 175 million barrels this year.
In 2003, Explorer expanded its capacity by adding new pump stations, storage tanks, power substations and pumping equipment. It was the largest expansion since the pipeline's construction. Within nine months, the expanded pipeline was running at capacity.
Explorer Pipeline counts safety as its most important value. The company has a level 4 safety culture, where the entire staff is engaged in and committed to maintaining and improving safety.
"Safety isn't just a priority for us – priorities change – but rather it's one of our values. Safety is part of who we are and a promise of how we operate," said Sands. "This includes not just the decisions we make in regard to the function of the pipeline, but also how we evaluate new business opportunities, carry out other job tasks and interact with colleagues and others."
Both the National Safety Council and the American Petroleum Institute have recognized Explorer Pipeline for its safety record. The company maintains a comprehensive integrity management plan as part of its safety culture. From a control room in Tulsa, Explorer provides 24-hour, computerized surveillance of its entire system.
Explorer uses advanced inspection devices (smart pigs) to evaluate the line from the inside and allow for early detection of corrosion or possible mechanical issues. Explorer also conducts aerial patrols of the line on a weekly basis, has periodic field inspections and actively promotes "Call Before You Dig" initiatives to boost public awareness of pipeline safety.
Being proactive is important, said Sands, because neighborhoods have grown up around Explorer since the line was constructed four decades ago. "We didn't build the pipeline under golf courses and housing divisions, but those sprouted up – sometimes literally right over us – as cities grew and expanded," said Sands.
"We have regular meetings with elected officials and citizen groups and produce various educational materials so that the public will know who we are, how we operate and that we're committed to being a good neighbor."
For Explorer Pipeline, part of being a good neighbor includes investing in the communities in which it operates. The company is active in local United Way efforts and also supports environmental protection, health and human care, education and basic needs initiatives. Explorer's management team has served in positions of leadership with local rotary clubs,
outreach organizations, youth athletic groups, school boards and professional organizations.
Explorer in October announced plans to construct a new 24-inch diluent pipeline extension from its existing Peotone Station, which is located on its 24-inch mainline between Wood River and Hammond. The "Diluent Pipeline Extension Project" would enable shippers to transport diluent directly from Explorer to the Enbridge Southern Lights pipeline origin at Manhattan, IL. From Manhattan, the diluent delivered by Explorer will be transported via Southern Lights into Western Canada.
Related Articles