Whats New In Welding Products And Pipeline Construction Products And Services
New welding products from Lincoln Electric, CRC-Evans Automatic Welding, Pipeline Machinery-Cat, Vacuworx International, GE Sensing & Inspection Technologies, Geneq Inc., Semaphore, McElroy, Meta Vision Systems, Invensys Operations Management, Polyguard Products, PCC Energy Group and Kobelco.

Lincoln Electric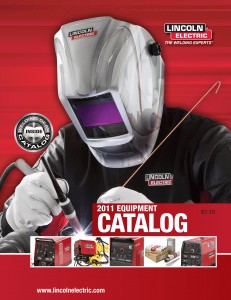 Lincoln Electric has introduced its 2011 Equipment Catalog (E1.10) with a new look and a removable Welding Gear catalog, detailing the company's new Red Line™ welding apparel product line. An online Fast-Flip eBook version is accessible at the Lincoln Electric website. Displayed are all of Lincoln's key products, including those introduced over the last year to help customers reduce costs, increase quality and improve productivity. It showcases the wide selection of power sources, welding consumables, accessories, automated solutions and fume control systems, including the following new products: latest VIKING™ welding helmets, Flextec™ 450 power source, Python® and Python®-Plus Guns, Square Wave™ TIG 175, Accu-Pak® box upgrades, Excalibur® stainless stick electrodes, Lincolnweld® stainless, Submerged arc wire and flux, VRTEX™ 360 Updates, Power Wave® R350 power source, Updated Mobiflex® 200 and 400 models and new Modular extraction hood models. www.lincolnelectric.com, bulletin E1.10, 888-355-3213.
CRC-Evans Automatic Welding
CRC-Evans Automatic Welding equipment was used on the Louisiana section of the Midcontinent Express Pipeline completed last year. Two contractors, Associated Pipeline Contractors, Inc. and Willbros Construction, used combinations of the CRC-Evans Internal Welding Machine (IWM), the P260 External Welder, and the P600 External Welder for their projects. CRC-Evans equipment completed 14,784 welds in the 42-inch pipeline. The company says its IWM provides faster, more accurate welds by combining lineup mechanisms and an internal welder that automatically deposits the root bead in 1.25 minutes. The P260 welder provides tip-to-work tracking, 32-pass programmable welding, PDA downloads in the field, and position-based parameter control. The P600 External Welder has single or dual-torch operation, through-the-arc tracking, onboard data collection, and touch-screen control. 832-249-3100, www.crc-evans.com.
Pipeline Machinery-Cat
A custom-built welding tractor – the latest pipeline offering from Caterpillar – was unveiled late last year at its Grenoble Echirolles plant in France. The company said the 953D Welding Tractor is targeted for pipeline contractors looking for a reliable, durable machine to support welding operations. A product announcement was made in December by Pipeline Machinery-Cat (PLM-Cat), Caterpillar's worldwide pipeline machinery dealership. The base vehicle is a 953D Track Loader with key modifications to the front and rear that allow installation of welding equipment for manual and automatic pipeline welding. It is equipped with a world-class ROPS cab with heating and air conditioning, an air-suspended seat and visibility that the company says has no match in the industry. www.plmcat.com.
Vacuworx International

On its website, Vacuworx International spotlights its new fully self-contained, patent-pending lifter, MC3. Because the 3-ton capacity lifter is self-contained, it attaches to excavators, forklifts, wheel loaders, cranes and boom trucks. Tubular products such as steel, concrete, plastic, or coated pipe of most types are lifted with ease. Advantages include: fully self-contained; no external power systems required; smaller size (dry wt. 900 lbs.); fewer ground personnel required; up to 3-ton capacity; no damage to coatings; pipe can be stockpiled without spacers; any pipe and slabs can be handled, including concrete, steel, or poly; a sophisticated wireless remote control has many "fail-safe" features; and only the suction pad(s) must be changed to switch to different pipe diameter. 866-664-3450, www.vacuworx.com.
GE Sensing & Inspection Technologies
Flash! Filters from GE Sensing & Inspection Technologies provide one-click image optimization resulting in faster image enhancement and streamlined weld X-ray inspection workflow. A plug-in module for GE's Rhythm® Review, Flash! Filters automatically applies enhancements with one button mouse click, eliminating time spent adjusting the brightness and contrast settings to obtain the sharpest image. Flash! Filters can also convert flat digital images into a film-like image. Following the DICONDE standard, the filters are applied as layers on the image, enabling operators to always revert to the raw image, ensuring reliability of the data. Using the filters is said to save about 10 seconds of analysis time per five inches of weld. www.gesensinginspection.com.
Geneq Inc.


Geneq Inc. says it is the pioneer in high-performance single frequency GPS mapping systems. It announced what it describes as one of the world's smallest dual frequency (GPS L1/L2) GPS RTK receivers for high-accuracy GIS data collection along pipeline construction rights of way. Named the SXBlue III GPS, it weighs a little more than a pound (517 g) and fits in the palm of the hand. Equally small is its patch antenna. At only 5.5 cm wide and weighing 80 grams, it is one of the smallest dual-frequency antennas in the world. http://www.sxbluegps.com.
Semaphore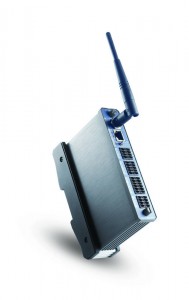 Semaphore, a CSE Global company, announced first shipments of a new model in the T-BOX RTU product family for remote monitoring and SCADA system applications. The T-BOX LT-202 is described as meeting requirements for automation, energy management, sub-metering, and utility metering applications. The unit is a very compact, rugged platform that includes six analog inputs (0-10 VDC), two Pt1000 temperature inputs, two digital/pulse inputs, eight digital inputs/outputs, and four digital outputs with relays. Integral communications include Ethernet, RS-232, RS-485 two-wire, and a choice of PSTN modem, GSM/GPRS modem, spread spectrum radio, or RS-232 with full modem control. It employs a decentralized architecture to enable the complete integration of programmable automation, alarm management, data logging, and IP telemetry in a single package. www.cse-semaphore.com, 407-333-3235.
Lincoln Electric
Lincoln Electric has updated its VIKING™ auto-darkening helmet line with two new series of helmets – the 1840 series featuring a 1.8-inch viewing area height in a compact DINS-sized lens cartridge and the 2450 series featuring a 2.4 inch-viewing area height in a U.S. standard 4.5-inch x 5.25-inch lens cartridge. The 1840 features externally controlled continuously variable 9-13 shade control for quick changes without helmet removal. The 2450 series features a protected internal continuously variable 9-13 shade control. Variable sensitivity and variable delay allow the user to adjust the time required to bring the helmet from a darkened view back to the light state. Both helmets include an integrated grind control. www.lincolnelectric.com, 888-355-3213, bulletin E12.208.
McElroy
Most pipeline job sites require a mix of heavy machinery to maneuver pipes into place. McElroy's new MegaMc® Pipe Stands are self-contained, gasoline-powered pipe stands that eliminate the need for a piece of heavy machinery to hold the pipe in place. Two models are available. A 36-65-inch model accommodates pipes up to 16,000 lbs. while an 8-36-inch model handles pipe up to 9,000 lbs. Besides the productivity gained from allowing heavy machinery to be used elsewhere on the site, the stands offer 24 inches of lateral movement, as well as 34 inches of vertical adjustability. This freedom of movement allows the operator to maneuver the stick of pipe to the height of a thermoplastic pipe fusion machine.www.mcelroy.com.
Meta Vision Systems


Meta Vision Systems has launched a new laser-seam tracking system that applies the company's latest sensor technology to welding machine applications and offers a temperature range fit for pipeline construction sites. Called Smart Laser Probe, it is manufactured at the company's Oxfordshire, UK factory and was demonstrated on the Meta stand at the Fabtech exhibition in Atlanta last November. The concept of Meta's original laser probe was to provide laser-seam tracking performance and reliability at a price roughly comparable with mechanical, tactile probe tracking. The system has proved successful in automated welding operations involving simple linear, rotary or circumferential operations. Using the latest advances in megapixel CMOS cameras, embedded electronics and high resolution displays, Meta has designed the new generation of Smart Laser Probe with significant improvements in performance, reliability and ease of use. 44 1865 887900, sales@meta-mvs.com, www.meta-mvs.com.
Invensys Operations Management
Invensys Operations Management, a provider of technology systems, software solutions and consulting services, has introduced a new HART-enabled plug-in migration solution for Fisher PROVOX Series 20 distributed control systems (DCS). Users can now easily upgrade to the advanced Foxboro I/A Series DCS, taking advantage of HART field communications functionality, along with groundbreaking InFusion enterprise control system (ECS) technologies to achieve control excellence, without the need for rewiring. Well-proven Invensys plug-in migration technology minimizes cost, risk and process downtime because the upgrade can be accomplished without replacing field wiring, termination assemblies, system enclosures or power supplies. Invensys replaces the Fisher PROVOX input/output (I/O) modules with new Foxboro I/A Series I/O modules especially designed to plug directly into the existing PROVOX system nests. www.invensys.com, www.iom.invensys.com/migration.
Polyguard Products


Polyguard™ points to its non-shielding pipe coating RD-6. The company says that RD-6 coating systems have been used by major operators since 1988 and, to the knowledge of Polyguard, there has never been a case of serious corrosion found under RD-6. The company says it believes the shielding problem has been "largely ignored worldwide." Polyguard says it has been ISO 9000-certified since 1996 with current certificates: American National Standards Institute, Dutch Council for Certification and Deutscher Akkreditierungs Rat. 214-515-5000, www.polyguardproducts.com.
PCC Energy Group
WG (Wyman Gordon) Pipe & Fittings, Special Metals and WG Oil & Gas are now vital parts of a new entity – PCC Energy Group. A recent announcement said the merging of capabilities will enable the group to provide customers with more resources from a single source. The group supplies pipe, fittings and forgings in a variety of materials including steel and nickel-based alloys for oil and gas, nuclear, power generation and petrochemical industries. The group has facilities in the U.S., UK and China and says it can now offer products and services from a global manufacturing footprint. 877-858-0433, www.pccenergygroup.com.
Lincoln Electric
The Lincoln Electric Company has enhanced its Vantage® 500 engine-driven welder with a new model in a compact case. Now, at the same dimensions as the Vantage® 300 and 400 models, the Vantage 500 Perkins® is described as ideally sized for truck beds where available space and weight capacity are limited. The new model is designed to handle the most demanding construction, pipeline, rental fleet or repair applications. All Vantage 500 models feature a standard stainless steel roof and side panels for reduced maintenance and corrosion-resistance as well as simple controls to minimize training time. The Vantage 500 Perkins is powered by an environmentally friendly, four-cylinder, 1,800-RPM Perkins turbo-charged diesel engine. Bulletin E6.214, 888-355-3213, www.lincolnelectric.com.
Kobelco


The Kobelco SK850LC Super ACERA full-size excavator features an enhanced cab design for operator comfort and efficiency. The machine provides extremely competitive breakout, drawbar pull and swing torque forces, combining precision and power. The SK850LC has four standard working modes. The H Mode allows heavy digging and high productivity. The S Mode delivers standard digging and increased fuel economy. The B Mode powers one-way flow attachments. The A Mode powers attachments that require two-way flow. The excavator can be configured four different ways for shipping and transport to meet local requirements. www.kobelcoamerica.com.