What's New In Pigs and Pigging
Advances in pigs and pigging from Enduro, BJB Company, Pipeline Inspection Company, GE Oil & Gas PII, ROSEN, Inline Services and Pipeline Cleaners.

Enduro Pipeline Services
Enduro is offering the dual-diameter DigiTel Flux Logger (DfL™). Pipe ranges covered include 10-inch x 12-inch, 8-inch x 10-inch and 6-inch x 8-inch. The unit acquires data from several sources simultaneously in the pipe sizes listed, all in one pass. This negates the need to perform independent surveys for each pipe size. It provides data sets for conducting metal loss, deformation and inertial surveys. Internal and external discrimination and residual field data are taken in one pass. Processing and analyzing the closely coupled data allows software users/analysts to more readily recognize pipeline features and assess conditions. Any areas indicating geometry and/or metal loss features are simultaneously evaluated for deformation, strain, profile, and permeability variations. GPS mapping available on request. 918-446-1934, www.enduropls.com.
BJB Company Lineboar Tools
BJB Company offers a brochure devoted to the Lineboar™ pigging units and cups. The Lineboar cups are illustrated and discussed. There are three cups featured: conical, scraper and disk. The conical is recommended for pig runs where the amount of debris in the pipe is unknown or where restrictions of up to 20% of diameter are expected. It is superior as a carrying cup for heavier pigs. The scraper cup is much like the conical cup but with the addition of a scraping edge. Its profile is recommended for most cleaning and de-waxing runs. The disk cup is described as being the most aggressive profile. It combines a leading disk and a carrier cup. The disk cup is less flexible than the others and is recommended for use as final in a cleaning/de-waxing operation. The company says it is less likely to "run over" debris. 432-683-7074, contact@bjbinc.com, http://www.bjbinc.com/lineboar/.
Pipeline Inspection Company Ltd.
Pipeline Inspection Company Ltd. offers a brochure illustrating its line of SPY® pig-tracking products for mainline transmission lines, gathering lines, subsea lines, municipal gas, water and wastewater lines and the refining and process industries. Information includes transmitter dimensions, signal life, pickup ranges, operating pressures, temperatures and minimum pipe-bend capabilities. It includes mounting options and accessories. PTRs for locating SPY transmitters are included. These transmitter-locating devices are portable and capable of producing a visual and audio output. They can be provided for 10,000-foot subsea applications. John Graham, 713-681-5837, www.picltd.com.
GE Oil & Gas PII Pipeline Solutions


GE O&G PII says its MagneScan™ MFL pipeline inspection technology has completed its first 250 miles of pipeline inspection work on both sides of the Atlantic. In recognition, the company has presented awards to two customers following their pioneering use of the new technology. SARPOM, ExxonMobil's Affiliate Refinery and Pipelines Company in Italy (20.5 miles of 6-inch jet-fuel line), and Jayhawk Pipeline, the U.S. pipeline operator (four 6-inch product lines spanning a total of 227.5 miles), were recognized for projects successfully completed in the first quarter of 2009. The MagneScan inspection tool simultaneously maps the pipeline and checks it for corrosion, using high-resolution MFL sensors that deliver high-quality data to identify and locate metal loss and is suitable for GIS analysis. Mapping data is integrated with inspection information during the run. www.ge.com/oilandgas.
ROSEN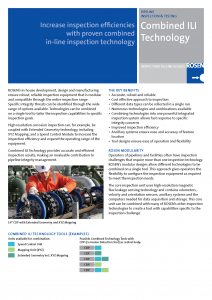 Rosen offers a brochure on its website. In a section entitled "Rosen modularity" the brochure observes that pipeline operators often have inspection challenges that require more than one inspection technology. The company's modular designs allow different technologies to be combined on a single tool. The core inspection unit uses high-resolution magnetic flux leakage sensing technology and contains odometers, velocity and orientation sensors, ancillary systems and the computers needed for data acquisition and storage. This core unit can be combined with many of Rosen's other inspection technologies to create a tool with capabilities specific to the inspection challenge. www.RosenInspection.net.
Inline Services, Inc.


In keeping with its "Intelligent Pipeline Maintenance" focus, Inline Services Inc. has introduced a number of new products. The company says it is proud to introduce an exclusive line of pipeline assessment tools designed and manufactured by Aberdeen-based Pipelines to Data (P2D). These innovative tools measure and record pipeline operating parameters and geometric profiles and map pipeline debris, providing operators an accurate, ATEX-certified pipeline condition assessment which will gauge the efficiency and effectiveness of pipeline cleaning protocols.

Inline Services is also introducing its new Pit Cleaning Pig(TM) featuring corrosion fighting pencil brushes designed to clean pits untouched by flat wire bristle brushes. The brushes can also effectively remove black powder. Mounted on the same mandrel pig as conventional brushes, both the surface of the pipe and the pits are cleaned during a single pig run. Pit cleaning brushes can be retrofitted to any existing mandrel pigs.

A third new offering from Inline Services is an exclusive new line of non-intrusive, magnetic and ultrasonic pig monitoring, data communications and logging systems manufactured by Aberdeen-based Online Electronics. These systems meet the stringent ATEX standards and can log and date stamp up to 100 events. These technologies allow for thorough monitoring without costly interruptions in production or expensive and potentially corrosive installation procedures. 888-973-0079, www.inlineservices.com, sales@inlineservices.com.
Pipeline Cleaners, Inc.


Pipeline Cleaners, Inc. (PLC) of Ft. Madison, IA recently automated their manufacturing plant with the addition of two specialized flat wire brush machines. The state-of-the-art equipment can manufacture both block and strip brushes to any bristle trim length and brush size while greatly improving production quality and quantity. PLC, which says it is one of the oldest mandrel pig and brush manufacturing companies, also manufactures pencil brushes for inspection and specialized cleaning pigs. 800-372-2051, www.pipelinecleanersplc.com.
Related Articles