New products and services from the Torre Group, Bredero Shaw, ABB, Lincoln Electric, WFS, Frick & Company, NDT Global, Prosoft, DNV GL and more.

Torre Group
Torre Group has introduced the SUPRAFLOW, a large-diameter, self-contained PE hot tapping tee to facilitate live branches on larger diameter PE pipes. It is fully rated to 150 psig and permits for larger diameter PE gas mains, such as 6", 8" and 10", to be safely branched under pressure via a fully enclosed tapping device. A wide range of main and branch combinations are offered. Popular configurations include 6" by 4" and 8" by 4". Outlet bores are engineered near full-port and cutters are designed to retain the PE shavings and disc. The branch extension can be pressure tested before the main is drilled. A lightweight system, it can be handled by one operator and installed in several positions on a main. For a new branch, there is no need to squeeze off PE mains and construct a bypass, which eliminates large excavations and traffic disruptions. (800) 617-3619, www.torre.biz/catalog.
William Frick & Company


William Frick & Company's TestPost Line Marker is now available with a specially designed, fully customizable faceplate. This scratch- and impact-resistant terminal faceplate is designed to withstand harsh outdoor elements and excessive handling by field crews. Permanent lettering ensures descriptions won't wear out. Made to order with custom text, color, layout and number of holes, the marker comes fully assembled with a three-week lead time. marketing@fricknet.com, www.fricknet.com.
Interprovincial Corrosion Control


Interprovincial Corrosion Control (ICCC) has upgraded the ATEX and IECEx Certifications for the Rustrol Cathodic Isolator, Solid State Surge Protector Model: SSP-ATEX. This decoupling device is designed with multi-parallel internal modules constructed for instant response and maintenance free performance. It is manufactured to be fail-safe and protect against shock hazards. www.Rustrol.com.
NDT Global
NDT Global has announced the commercial availability of the LineExplorer UC crack detection Intelligent Inline Inspection tool for 6-inch pipelines. This ultrasonic ILI tool detects and sizes axial cracks and crack-like features such as fatigue cracks, stress corrosion cracking (SCC) or weld cracks. The tool handles inspection distances up to 50 miles and has 1.5D bend capability. Its in-house-designed sensor carrier is equipped with 144 newly developed crack inspection sensors to secure optimum inspection data quality. Cracks and crack-like features can appear during manufacturing, construction and operational life of a pipeline. Inline inspection and subsequent data analysis ensure early detection. www.ndt-global.com.
Victaulic


Victaulic has introduced the Series 727 Ball Valve, a high-pressure, enhanced port, NACE-compliant valve with grooved ends for upstream oil applications. The internal design has been streamlined to provide superior flow characteristics, offering improved throughput. Flow testing demonstrated up to one-third better flow than competitive standard port ball valves. Featuring grooved ends, the valve is joined using the company's couplings, which it says permits quicker and easier installation and maintenance than flanged valves. The new valve weighs one-third less than equivalent flanged valves, further easing handling and installation. www.victaulic.com.
Wireless For Subsea (WFS)


Wireless For Subsea has released the Seatooth S100, a data-logging tool suitable for use in a pipeline pre-commissioning process. It enables a high rate of data to be transmitted over a short distance in all operating environments, including in shallow or turbid water, in presence of bubbles, contaminants, or biofouling, near large structures and through the seabed or concrete or metal structures. The device is capable of radio frequency communications that allow retrieval of logged data via an ROV. Small, low power units can be installed easily on any ROV or subsea system and data downloaded quickly and reliably without any physical connection. www.wfs-tech.com.
ABB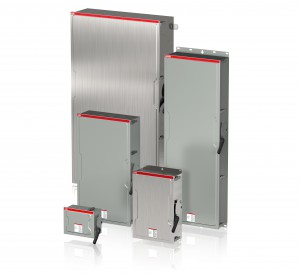 ABB's Low Voltage Products division has introduced a new line of heavy duty safety switches with enclosed, maintenance-free mechanisms and touch-safe, visible blades. The new switches range from 30 to 1,200 Amps, meeting the necessary UL98, CSA and NEMA KS-1 standards, and are available as fused and non-fused with Types 1/12/3R/4X steel or stainless steel enclosures. www.abb.com/safetyswitches.
Hyundai


Hyundai Construction Equipment Americas, Inc.'s H930C backhoe is currently available to the Latin American market and will be released in North America toward the end of 2015. Designed for versatility, the machine is suited for jobs such as small trenching projects, site preparation and road and utility work. Its operating weight is 14,881 pounds and it's powered by an 87 hp Tier 2 Perkins 1104C-44T engine. The engine combines new combustion technology with internal exhaust gas recirculation (EGR), long oil change interval (600 hr) and an air grid heater as a cold start aid. Loader bucket capacity is 28.3 cubic feet, a trenching bucket capacity is 6 cubic feet and backhoe dig depth is 14'3". Operators can look forward to a large, spacious cab designed for maximum comfort, safety and low noise. Standard features include a tilting, adjustable steering column, hinged-type side windows for ventilation, conveniently located gauges, switches and levers for ease of use and a suspension seat with full adjustment for improved operator ride. 877-509-2254, www.hceamericas.com.
DNV GL
DNV GL has announced the launch of an independent verification service based on the provisions of its Recommended Practice for Risk Management of Shale Gas Developments and Operations (RP), regulatory requirements and other publicly available standards, a global third party verification service with comprehensive coverage of shale operational risks. The new service can be used as a tool to help assure stakeholders that an independent assessment can assist in preventing incidents, reducing operational costs and limiting the environmental footprint of shale developments. Best practices measured in the assessment process include environmental, occupational and process safety, human factors, well integrity, and other elements that may help address the low probability, high consequence incidents under review today. The verification process determines whether a comprehensive, transparent risk management approach related to risk identification and mitigation has been implemented to allow sustainable shale project development or expansion. www.dnvgl.com.
Prosoft


ProSoft Technology has released the Ethernet to Belden 9463 Blue Hose Industrial Media Converter, which allows companies to upgrade their Allen-Bradley Remote I/O system by running EtherNet/IP communications over the existing Remote I/O network. The work can be done during scheduled downtime to minimize cost. The new converter uses patented technology to help companies upgrade their systems with minimal downtime. Once the converters are installed, companies will be able to run multiple specified types of data simultaneously on the existing cable. This allows them to upgrade individual nodes in phases. Units are plug and play, with no configuration needed. psft.com/eiprio5.

Bredero Shaw
Bredero Shaw has developed network epoxy modified olefin (NEMO), a new custom coating product designed to be used for subsea pipeline components and equipment used in high-temperature, high-pressure situations. The new product answers the need for a coating material to be used on irregularly shaped parts of subsea production systems, such as bends, spools, terminations (PLETS), jumpers, and goosenecks. Two types of the coating family have been successfully tested on applications up to 120°C. Tests are ongoing for 130°C and 140°C. NEMO 1.1 is an epoxy-urethane hybrid suitable for low-pressure casting applications. It overcomes the problems associated with traditional PU systems, and can be used up to a maximum continuous operating temperature of 95°C. NEMO 2.1 also has speed and demold times similar to PU and can handle continuous operation up to 120°C. 281-886-2374, www.brederoshaw.com.
Lincoln Electric


Lincoln Electric has added the Jessi Combs Women's Welding Gear Ready-Pak to its Welding Apparel product group. This offers female welders smaller-fit jackets and gloves and all of the essential personal protective equipment a welder needs in one pack, including an industrial duffle bag, VIKING Jessi vs. The Robot 3350 Series auto-darkening helmet, Jessi Combs Women's Shadow FR welding jacket, Jessi Combs MIG/stick welding gloves, Jessi Combs Steelworker gloves, Women's Starlite clear safety glasses, and an FR doo rag. (888) 935-3877, www.lincolnelectric.com.
Rockwell Automation
Rockwell Automation's Allen-Bradley Guardmaster 440C-CR30 safety relay allows users to program it through the company's free software. The software reduces programming time and helps increase productivity by allowing users to create, control and monitor a safety system in the same software environment as their standard control. The safety relay meets PLe, SIL 3 per EN ISO 13849-1 and IEC 62061. It is suited to applications requiring four to nine safety circuits and control of up to five zones.
A distinct graphical user interface and the drag-and-drop capabilities of the software help guide users through a process of selecting certified safety function blocks for the safety relay. Once programmed, an embedded Modbus interface allows the safety relay to easily communicate diagnostic data to associated controllers or graphic terminals. www.rockwellautomation.com.
Honeywell
Honeywell has released its new DynAMo Alarm Suite, an advanced alarm management software that reduces the overall number of alarms while helping process plants and pipeline operators focus and respond to those most critical. At issue is the sheer number of alarms, which range from day-to-day activities (known as nuisance alarms) such as the opening of an electrical switch room door, to notification of a critical equipment failure. The new product may reduce overall alarm count by as much as 80%, identifies maintenance issues and increases visibility of critical alarms that require urgent attention. Its customizable, role-based dashboard enables operators, engineers and managers to view the health of their alarm system at a glance. The new software is compatible with many mobile devices. http://www.honeywellprocess.com/alarmmanagement.
McElroy
McElroy's QuickCamp System allows operators to fuse pipe from 8" IPS to 36" OD day or night during severe weather conditions in a climate-controlled shelter that protects fusion joints from the elements. A single operator can load and align pipe by remote control from inside the shelter with the MegaMc PolyHorse and MegaMc Rollers pipe-handling tools, which are included in the system in addition to a 1236/900 or 824/630 fusion carriage. The carriage can be moved by up to 18" so that the pipe ends can be adjusted for proper face-off when pulling pipe through the shelter. www.mcelroy.com/fusion.

ESAB


ESAB' s Global Center of Excellence for Gas Apparatus in Florence, South Carolina has introduced the SabreCut Series of gas apparatus products, a comprehensive line of straight cutting and combination torches, regulators, regulator-flowmeters, cutting tips and complete outfits. The series addresses a full range of welding and cutting needs for light, general fabrication. The tools accept "brand V" cutting, welding and heating consumables. Universal mixer torches can be used with any fuel gas, including acetylene. 1-800-ESAB123, www.esabna.com/sabrecut.
Fecon


Fecon, Inc. has introduced the versatile EX60 Utility Track Vehicle, with a 6,000-pound payload capacity, 46HP diesel engine and all-terrain rubber tracks. Two standard auxiliary hydraulic circuits can power optional equipment. A load sense pump is offered as an option for more demanding applications. A universal mounting plate in the payload area allows a simple switch between solutions, whether skid-mounted equipment or material handling apparatus. The operator station and operator controls are reversible to increase flexibility. Travel speed is seven miles per hour. www.fecon.com.
3M
3M has launched a high-altitude upgrade of its popular Adflo Powered Air Purifying Respirator (PAPR) system, capable of providing continuous filtered air to welders working at altitudes of up to 10,000 feet. The upgrade has been designed specifically to compensate for air-density changes that occur with an increase in elevation. The base respirator also now comes standard with a lithium ion battery, reducing the battery weight in previous models by approximately 50 percent and the overall respiratory system weight by approximately 20 percent. www.3M.com/PPESafety.
Michell Instruments


Michell Instruments has announced a new binary gas analyzer, the XTC601 Thermal Conductivity Analyzer. The analyzer uses thermal conductivity technology to detect percent levels of a target gas mixed with another background gas. Gases measured are carbon dioxide, methane, argon, helium, nitrogen, hydrogen and air. Thermal conductivity sensors are non-depleting, lowering the analyzer's maintenance costs, and the analyzer is designed to be compact. The sensor is highly flexible and is capable of measuring gases from 0-5% up to 0-100%, calibrated to suit the application. www.michell.com.
Insect Shield
Insect Shield makes protective clothing and gear items to protect outdoor workers from insect transmitted diseases. The EPA-registered technology converts work wear into effective and convenient insect protection that lasts through 70 launderings and can repel ticks, ants, flies, chiggers, and midges (no-see-ums). A wide array of clothing and gear categories are offered. www.insectshield.com.
DSI
DSI has announced the Total Track System, a collection of software, labels, scanners, quick start implementation, and training developed to reduce the loss of tools and track inventory on projects with multiple people accessing stores. The maintenance manager tracks service performed and due on equipment. A function to manage inventory tracks materials used and prints purchase orders. The Checkmate System can be integrated to Quick Books and other accounting programs. dynamic-systemsinc.com.
Topcon Positioning Group


Topcon Positioning Group has announced a new data controller, the FC-500, designed for the professional operating Topcon MAGNET® Field, Site and Layout software and Topcon's Pocket 3D. Its features include a 4.3-inch touchscreen display, a 5MP camera with built-in LED flash and a sunlight readable screen. The controller is waterproof up to one meter with an IP68 rating. With 8GB flash storage, many large jobsite photos can be saved. The standard model has both Bluetooth and WiFi connectivity, while the GEO model has Bluetooth, WiFi and GPS. A third model comes with the addition of a 3.5G cellular modem. topconpositioning.com.