That so many Americans found themselves without enough propane to heat their homes adequately this winter can be attributed to several factors. Oddly enough, though, experts agree none of these involve an actual shortage of fuel.

The production of propane, which is a byproduct of natural gas production and crude oil refining, has never been so prolific – increasing to 1.39 MMbpd in October 2013 from 1.29 MMbpd a year earlier, according to the U.S. Energy Information Administration (EIA). This actually led to many months in which record surpluses were reported.
"Production is obviously not the source of the problem," said Mark Bridgers, a design and construction consultant at Continuum Advisory Group. "The source of the issue is a confluence of events that if they had been separated by a period of weeks, we wouldn't even be talking about this now."
Those events included record-low winter temperatures throughout much of the United States that further increased propane demand, already intensified by the needs of farmers in the Midwest who used five times as much propane as usual to dry corn crops after an especially wet harvest season.
Among the non-weather-related factors contributing to the shortage was the increase in propane exports, which grew to 410,000 bpd in November, an increase of 34% over June, according to EIA data. By comparison, as recently as January 2012, propane exports totaled only 150,000 bpd.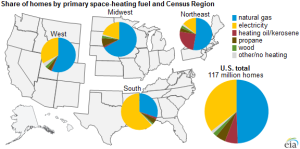 "In my mind, exports are not the driver," said Bridgers, who pointed to shipping changes and the loss of available rail cars and facilities that were already contracted to move NGLs and oil as bigger non-weather culprits.
Nonetheless, the National Propane Gas Association (NPGA), a trade association with 3,200 member companies in all 50 states, believes the effect of exports on the domestic market and its inventory levels needs further study and has hired an analysis group.
"We know that exports certainly played a role in what happened this winter, but we want to understand to the full extent how it did," said Mollie O'Dell, NPGA communications director, adding 2013 was the first year exports surpassed the amount of propane coming online.
"We have plenty of propane," O'Dell said, pointing out that from 2008-2014 propane production increased by 2.6 billion gallons. "What happened this winter was a perfect storm of events."
In response to the "perfect storm," which prompted at least 20 states to declare emergencies, in some cases modifying limits on how long propane delivery drivers could remain on the road, the Federal Energy Regulatory Commission (FERC) used its emergency authority under the Interstate Commerce Act.


On Feb. 7, FERC ordered Enterprise TE Products Pipeline Company, to temporarily provide priority treatment to propane shipments from Mont Belvieu, TX to the Midwest and Northeast.
"The problem is acute enough that we feel it is important for us to take this step," acting FERC Chairman Cheryl LaFleur said.
The addition of the 500,000 barrels generated by the FERC order helped stabilize the supply, which had been the industry's short-term goal and should go a long way toward stabilizing the price to consumers.
Storage, Rail Issue
Unlike diesel and gasoline, for example, propane is not stored in large volumes, despite being relatively stable and experiencing virtually no degradation in fuel quality so long as its container is not damaged. Stored at 300 pounds per square inch (psi), it requires about one-tenth as much pressure as compressed natural gas (CNG), about the same as brake fluid in an automobile.
The challenge, according to Roy Willis, CEO of Propane Education and Research Council (PERC), which promotes safe propane use, is physical capacity. This is particularly true, he said, because two-thirds of the propane-heated homes in the United States are in the Northeast and Midwest, the two regions with by far the least amount of storage in consuming areas.
"We have, basically, two large storage hubs in the country (Mont Belvieu and Conway, KN)," Willis said. "The rest of it is pretty much aboveground or buried tanks."
The NPGA has renewed efforts to reopen the dormant Finger Lakes, NY, salt cavern facility, but it faces opposition from the governor's office, which has resulted in what Willis called "a facility that's been in regulatory limbo for about five years now."
That rail use, too, has been limited as a means to ship propane, is largely a reflection of the changing directional flow of product, resulting from natural gas shale development.


"What we see occupying rail cars is the mixed NGLs [known as Y-grade or raw mix] coming off the Marcellus in areas that do not have the processing fractionation capacity to handle those volumes and taken to the Gulf Coast," said Willis. "That's had a bigger impact on the availability of rail cars than the oil transport, though the oil certainly ties up locomotives and other facilities."
Pipeline changes also had an effect. The Cochin pipeline, a major supplier of propane to the Midwest for 35 years, was shutdown Nov. 27 for maintenance and remained offline until mid-December.
Unfortunately for propane users, it was just a preview of things to come. Operator Kinder Morgan had already announced plans to cease shipping propane along the 1,900-mile pipeline at the end of March.
The line will be reversed to carry light petroleum condensate from the United States to be used in Canada's flourishing oil industry. Canada's propane exports have sagged, with the Cochin operating at 22% of annual capacity according to Houston research firm RBN Energy.
Relief For The Future?
In reaction to the dearth of propane, ONEOK Partners, in early February, began the regulatory process required to reverse the flow of a propane along a pipeline that would send the fuel to a Kansas storage hub, from which it would be shipped to the Northeast and Midwest.
In a filing with FERC the company presented an adjusted a tariff notice for a Kansas-Oklahoma pipeline, notifying shippers of the possible move, which would allow the ONEOK plant in Medford, OK to boost the amount of propane shipped to Conway, site of the second-largest hub in the country. No timeframe for the potential change has been announced.
"This filing is an example of us trying to get as much propane as we can in the regions where it is desperately needed," ONEOK spokesman Brad Borror said, according to The New York Times. "It would give us a little bit more flexibility and remove some constraints."
Still, there is the broader issue of the effect natural shale gas development has had on pipeline flows in general.
"Infrastructure to move propane and other NGLs around the country has certainly been affected by the natural gas shale development," said Willis. "We literally see the direction of the flow of product from north to south and east to west."
At the consumer end, some analysts argue that being able to enter into longer-term contracts may be necessary to support the cost of needed infrastructure.
"Certainly, building year-round demand so that the retail industry can make the investment in storage and transportation assets rather than merely responding to peak demands for winter space-heating would create a more sustainable retail market," Willis said.
Separately, the industry is looking for answers with the thresholds for emergency authority from such laws as the Stafford Act, giving the Federal Emergency Management Administration (FEMA) the power to coordinate government-wide relief efforts, and the Energy Policy Conservation Act, which gives the executive branch additional powers to respond to disruptions in energy supply.
"Those are areas that the industry has identified as part of legislative discussion it wishes to have," Willis said, adding there have been calls for Federal Trade Commission examination of the markets to see whether they are performing properly.
Propane's Trip To The Market
propane-distribution.jpg
Propane, a byproduct of both crude oil and natural gas refinement, is shipped from its point of production to bulk distribution terminals by pipelines, truck, rail, barge or tanker ship. Dealers then fill trucks at the terminals and distribute propane to end users, including retail fuel sites.
Produced during natural gas processing, along with ethane and methane, propane is removed from raw gas to prevent condensation of these volatiles in the natural gas pipelines. Propane and butane, along with other gases, are also produced during crude oil refining as byproducts of cracking petroleum into gasoline and heating oil.
Most existing U.S. gas storage takes place in depleted natural gas or oil fields located close to consumption centers, according to the Energy Information Administration (EIA). This type of conversion takes advantage of existing wells, gathering systems, and pipeline connections.
However, propane is also stored in huge salt caverns, such as the ones in Mont Belvieu, TX and Conway, KN which were created by mining operations during the 1940s, and can store 80 MMbbl of propane. In the Midwest, natural aquifers have been converted to gas storage reservoirs.
Roughly half the propane produced in North America comes from each of these processes. Most of the propane consumed in the United States is produced in North America and shipped from its production point to distribution terminals.