Spectra Energy Partners Names Gregory Rizzo President/CEO
TransCanada Ready To Create Western Canada Hub
KMP Starts Commercial Operations Of Ethanol Transportation In Florida
Ultrasonic Flowmeter Market Booming, Study Says

FERC Relents on Key Issues in Final Posting Rule
Industry Raises Welding Appreciation Among High School Educators
Petroplex Planning Liquids Terminal In Louisiana
PECO Lowers Natural Gas Rates Nearly 19%
Compressor Products International Announces New Acquisitions
Spectra Energy Partners Names Gregory Rizzo President/CEO
Spectra Energy Partners GP, LLC, has named Gregory Rizzo as its new president and chief executive officer.
"Greg has had a long and successful history with the company and the depth of his knowledge and experience will be invaluable in this role," said Fred Fowler, chairman, Spectra Energy Partners. "I am confident he has the talent and background necessary to assume the helm of Spectra Energy Partners and take it to the next level."
Rizzo replaces Greg Harper who announced his resignation in November as president and CEO and member of the board of directors of Spectra Energy Partners (SEP) to accept another position outside the company. In addition to this new role with SEP, Rizzo will continue as group vice president, U.S. regulatory affairs, for Spectra Energy Corp.
SEP appointed Mark Fiedorek to the board as a new director. He is group vice president, Southeast transmission and storage, for Spectra Energy Corp. and has commercial responsibility for SEP assets.
TransCanada Ready To Create Western Canada Hub
TransCanada is preparing an overhaul and expansion of northwestern Canadian pipeline service that will merge Alberta and British Columbia into a natural gas common market, with producers driving the changes in cooperation with provincial authorities, according to a report by Natural Gas Intelligence (NGI).
The plan would combine northern BC and Alberta production into a giant system in which BC gas that moves into extensions of TransCanada's 14,700-mile NOVA system in Alberta will be absorbed into a NOVA system-wide trading and pricing network. The NOVA Inventory Transfer (NIT) is described as North America's biggest and most liquid gas hub as more than 11 Bcf/d already moves through the NOVA grid.
Open seasons to secure binding transportation capacity contracts are under way on potential NOVA extensions into three BC drilling hot spots, said TransCanada Vice President Stephen Clark. "I would expect we would be filing an application for at least one (pipeline project) in the early part of 2009."
KMP Starts Commercial Operations Of Ethanol Transportation In Florida
Kinder Morgan Energy Partners, L.P. has begun transporting commercial batches of denatured ethanol along with gasoline shipments in its 16-inch Central Florida Pipeline (CFPL) between Tampa and Orlando., making CFPL the first transmarket gasoline pipeline in the United States to do so. Kinder Morgan invested $10 million to modify the line for ethanol shipments which involved chemically cleaning the pipeline, replacing pipeline equipment that was incompatible with ethanol and expanding storage capacity at its Orlando terminal to handle ethanol shipments.
Ultrasonic Flowmeter Market Booming, Study Says
The ultrasonic flowmeter market remains the fastest growing market of any flowmeter type, according to a new market study from Flow Research (www.flowresearch.com). The study, The World Market for Ultrasonic Flowmeters, 3rd Edition (www.flowultrasonic.com), shows the worldwide ultrasonic flowmeter market at $440 million in 2007, up from $255 million in 2002, with a projected compound average growth rate (CAGR) of 9.8% through 2012.
The study also finds that the number of companies entering the ultrasonic flowmeter market is rising and predicts that even more companies will enter the market as ultrasonic flowmeter usage continues to grow.
The most important factor in the growth of ultrasonic flowmeters is the explosive growth in the market of multipath ultrasonic meters for custody transfer of natural gas. Approvals from industry organizations in Europe and the U.S. boosted wider use of multipath ultrasonic flowmeters. At the same time, the demand for natural gas, and the need to measure it, is increasing substantially. Ultrasonic flowmeters are also being more widely used to measure process gas and flare gas.
In addition, technological improvements have increased the accuracy of ultrasonic transit time flowmeters, which has led to broader use in a wider variety of conditions. Ultrasonic flowmeters now account for more than 10% of revenues generated by the entire worldwide flowmeter market.
Jesse Yoder, Flow Research president, said the future is highly promising for ultrasonic flowmeters.
"The ultrasonic flowmeter market grew very rapidly over the past several years, and we see that trend continuing, particularly as the market for gas flow measurement using ultrasonic flowmeters continues to expand," he said. "Suppliers, including larger companies with deep pockets, are jumping on the ultrasonic bandwagon. And as more and more users have positive experiences with this relatively new technology and recognize its advantages for certain applications, we believe they will increasingly adopt ultrasonic flowmeters."
The chart shows the projected growth of the ultrasonic flowmeter market from 2007 to 2012.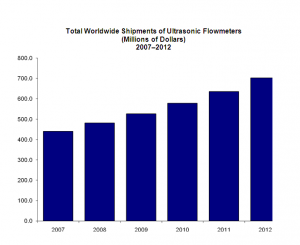 FERC Relents on Key Issues in Final Posting Rule
The Federal Energy Regulatory Commission walked a fine line with its final rule on natural gas flow posting, reducing the number of intrastate pipelines – called major non-interstates for the purpose of this rulemaking – that will have to comply while at the same time ditching a former proposal which interstates had opposed.
The final rule increased the minimum delivery threshold defining major non-interstate pipelines from 10-50 billion Btus per year. It also canned an earlier proposal to require both major non-interstate pipelines and interstate pipelines to post actual flow volume in addition to scheduled flow volume at each receipt and delivery point with a design capacity greater than equal to or greater than 15 million Btu/d.
In compliance with regulations adopted in Order No. 637, interstates post daily information on the Internet about scheduled natural gas volumes for most of the continental U.S. Shippers and other market participants rely on information posted by interstate pipelines to price both transportation and commodity transactions. But FERC believed the interstate posts alone were an insufficient picture of the supply and demand fundamentals that underlie the interstate natural gas market.
Because the commission's existing pipeline posting regulations do not apply to non-interstate pipelines, market observers cannot determine the availability of natural gas and transportation on a non-interstate pipeline to the same extent as they could for an interstate pipeline. These gaps in information are significant because major gas flows between producing basins and interstate markets occur on non-interstate pipelines and are invisible to the market.
For instance, there is a significant lack of information about supply-and-demand fundamentals in south-central region of Texas, Louisiana, and Oklahoma, and southern California. An Energy Information Administration study named 28 national market centers of which 13 are served by a combination of interstate and non-interstate pipelines. The 2005 Energy Policy Act gave FERC authority to require new gas market transparency reporting.—Stephen Barlas
Industry Raises Welding Appreciation Among High School Educators
The future is bright for welding. That was the message conveyed to more than 100 Wisconsin high school counselors, educators and administrators at a symposium on welding careers in Neenah. WI sponsored by Miller Electric Manufacturing Co., Airgas, Miron Construction and AZCO Inc.
Designed to inform the attendees about the salary potential and careers that can grow from an education in welding, the Career Horizons: Welding symposium featured presentations by welding students, graduates of welding programs, industry experts and high school administrators.
Larry Haase, principal at Menasha High School, "had no idea how many career pathways were available from a welding education until I became involved in this program. We've all ascended through our careers by starting at step one. A welding education can be a launching pad for a variety of careers in dozens of industries."
Attendees learned there are 2,900 unfilled welding jobs in Wisconsin alone and 360 new openings are created yearly with average salary of nearly $19/hour, potentially exceeding $100/hour. There is an anticipated nationwide shortage of more than 200,000 welders predicted by 2010.
One goal of the event was to encourage high school personnel to reach out to industries and businesses in their communities to form partnerships that can improve the quality of the schools' technical education programs.
Petroplex Planning Liquids Terminal In Louisiana
PetroPlex International, LLC will build a state-of-the-art, liquid bulk storage and blending facility in St. James Parish, LA. The first complement of storage tanks and docking system is scheduled to be operational by mid-2010. The storage facility will be constructed in two stages, with Phase One accommodating 4 million barrels of liquid petroleum. Phase Two will add 6 million barrels, constructed as industry demands dictate.
The site consists of 1,000 acres of immediately usable land (1,790 acres in total). Over 3,000 feet of river frontage, with 45-foot draft, will provide large vessels and river barges access to the docking system. The storage terminal will provide tankage for crude oil, residual fuel oil, middle and light distillates, along with specialty veg/lube oils.
Large-diameter pipelines/high-volume pumps will expedite the loading and discharging of cargoes. The site will be able to load/discharge via truck rack, railcar (Union Pacific Railroad), waterborne and pipeline connectivity to the Shell Capline System (connecting leg to be constructed).
PECO Lowers Natural Gas Rates Nearly 19%
PECO lowered its natural gas rate by 18.8% for its 484,000 customers in the Philadelphia suburbs, effective Dec.1. An average residential heating customer uses 160 Ccf (or hundreds of cubic feet) per month during the heating season. PECO said its decrease will save customers almost $50 in December, compared with the current gas rate ($261.58 for 160 Ccf down to $213.43, including taxes and other monthly charges). Coupled with another decrease on Sept.1, PECO's natural gas rate will be virtually the same as last December. Natural gas wholesale prices spiked last winter through June, causing gas rates for local consumers to rise from $1.28 per Ccf to $1.68 per Ccf in June.
In October, the PUC approved other changes in PECO's rates for suburban natural gas customers, effective Jan. 1, 2009. For the first time in more than 20 years, PECO's fixed customer and variable delivery charges will increase. The monthly charge will go from $1.29 per Ccf in December 2008 to $1.38 per Ccf in January 2009. PECO said the increase in these charges cover higher operating costs, greater investments needed in the local gas delivery system, and expanded energy efficiency and customer assistance programs. Customers will receive more information about these changes next month.
Compressor Products International Announces New Acquisitions
Compressor Products International (CPI) of Stafford, TX announced completion of three acquisitions last month. The acquired businesses are Horizon Compressor Services Inc., located in Houston; RAM Air, Inc. located in New Smyrna Beach, FL and C&P Services (Northern) Limited, located in Warrington, UK.
The acquired businesses provide components and aftermarket services for reciprocating compressors to customers in the petroleum, natural gas, PET bottle molding and chemical processing industries in the United States and England. Horizon Compressor Services and RAM Air will be managed by CPI–Americas and C&P Services will be managed by CPI–EMEAP (Europe, Middle East, Asia Pacific).