Gas distribution companies in need of a durable high-pressure non-metallic pipe now have another option. A new high-performance thermoplastic polyamide pipe, known as PA 12, is less expensive to install and easier to maintain than traditional steel pipe.

Evonik Industries, a maker of specialty chemicals, manufactures the polyamide VESTAMID® LX9030 PA12 used in the manufacture of pipe. Offering exceptional performance for high-pressure applications, PA 12 pipe allows gas companies to effectively design their underground infrastructure without sacrificing flow capacity. Researchers estimate that PA12 pipe has significant labor and installation savings over traditional steel pipe.
Gas Technology Institute (GTI) has helped introduce PA 12 to utility and energy suppliers. "PA12 is an excellent alternative to steel pipe in high-pressure applications up to 250 psi for gas distribution lines," said Dennis Jarnecke, program manager at GTI. "It has been used as fuel lines in cars and for air brake tubing in trucks. Now we see great potential for its use in gas delivery systems."
GTI, along with four natural gas distribution utilities – City of Mesa Utilities in Arizona, MichCon Gas in Michigan, National Fuel in New York, and WE Energies in Wisconsin – worked together to plan small-scale backyard evaluations of PA 12 systems produced from resin manufacturers, Evonik and UBE. The overall installations were planned and executed taking into consideration the safe, reliable and varied construction practices of the four utilities. Operating pressures for these test installations ranged from 160-330 psi.
Compliance with pipeline integrity regulations is also more cost-effective. "Traditional steel pipe must adhere to corrosion control and cathodic protection requirements which add to a company's expense," said Jarnecke. "PA12 is corrosion-resistant and has labor and installation savings over steel."
PA 12 pipes are available in a range of sizes according to the utility company's gas distribution specifications and requirements. A complete line of fittings is available to effectively construct PA 12 systems, including transition fittings, electro-fusion fittings and mechanical saddle fittings. Extruded in diameters ranging from 2-6 inches, PA 12 pipes can be manufactured in lengths of 50 feet as straight pipe and to more than 250 feet in coils, depending on the diameter and wall thickness. This flexibility in length – particularly for long stretches of installation – saves money by reducing time spent fusing pipe ends together. Equipment used in the installation of both straight and coil pipe does not require any modification.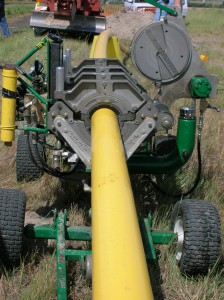 In August 2009, Energy West, a Montana-based gas utility and energy supplier, installed PA12 pipe for a natural gas distribution system in an established public right-of-way outside Great Falls.
"There are numerous benefits to utilizing PA12 pipe," said Ed Kacer, general manager of Energy West. "The material is lightweight and allows for faster construction than steel while maintaining higher volumes associated with higher pressures. Installation can be accomplished using a smaller construction crew, saving time and money." Very little initial investment is required for construction teams because the same equipment and processes are used when installing PA 12 pipe as other plastic pipe. The heat-fusion process for joining two ends of PA 12 is easier and faster than connecting steel pipes, benefitting the bottom line.
In research performed by GTI and sponsored by Operations Technology Development, NFP (OTD), PA12 has been evaluated for use as gas-distribution piping in North America, and technical support necessary to obtain regulatory approval for its use in the U.S. was developed. Extensive testing of materials resulted in a comprehensive data base of the physical properties of PA12 pipe and demonstrated conformity to ASTM standards. In accordance with Title 49 Code of Federal Regulation Part 192 requirements, qualified butt heat fusion procedures have been developed and qualified through comprehensive testing. For more information visit www.evonik.com/gas-pipes or contact Peter Rieck at 608-358-3178.

Steps In The Heat Fusion Of PA 12
PA 12 pipe is joined via a heat fusion process, using equipment such as the McElroy 28.
Facing. The ends must be cut or "faced" to 90° and aligned for proper joint. A dual rotational cutter makes the exact parallel cuts (Figure 1). After facing the waste material is removed from the tube.

Aligning. The two pipes are brought together to inspect and ascertain that the cut ends are parallel and aligned along the length of the pipe (Figure 2).

Heating. A hot-plate welder between 465-510°F is placed between the two pipe ends and held for up to 180 seconds, depending on pipe diameter (Figure 3).

Fusion. The hot plate is removed and the ends are pressed together under a controlled force to fuse the joint and create a molten bead of material (Figure 4).

Pipe Inspection. After a 10-minute hold time, the pipe is removed from the fusion machine and inspected. The single bead is inspected for uniformity (Figure 5). After another 30-minute resting period, the pipe can in placed into the ground and buried.

Author
Peter Rieck is a market development manager for Evonik Degussa Corporation, manufacturer of VESTAMID® PA 12 pipe material. His focus is on performance polymers for hydrocarbon transport applications.