French Pipeline Legend Hangs Up His Hard Hat
1/15/2016
With 52 years in the industry working on pipeline projects in many countries around the world, Bernard Quereillahc, now 69, is packing away his safety gear to focus on retirement.
Born in 1946 in Plaisance du Gers in the Gers department of the Midi-Pyrénées region of southwest France, Quereillahc first came to the industry as a student trainee at the tender age of 17, and since this early inauguration has occupied many different positions, covering most phases of pipeline construction.
Completing his full-time studies by graduating in Steel Structures Engineering at the Lycée Technique de Saumur in France in 1967 and the Internal Combustion Engines at the Ecole Industrielle de Saumur in 1969, Quereillahc's oil and gas career really began when he joined French-based, global pipeline contractor, Spiecapag, taking assignments in both France and Libya.
With his father, Pierre, having spent 30 years with Spiecapag, you could say he was introduced to the industry when he was still in his cradle. A short, one-year break followed while he met his obligation of what was then compulsory military service in France, serving as an under officer in transport and logistics. Back in business, so to speak, 1971-74 saw him as a senior field service technician for CRC-Evans, working on automatic welding in Canada, the United States, Holland and Italy. Then, in 1975, he was back with Spiecapag as equipment manager on a 48-inch pipeline in Basra, Iraq.
A change in direction came when he served as technical and commercial manager for Somico, representing CRC-Evans in Europe and North Africa. With more stamps in his passport, that role ended in 1987 when he returned to Spiecapag where he remained for the next 20 years, serving, among other roles, as logistics, equipment and plant manager, with much of his time dedicated to pipelayer safety issues, which, for Quereillahc, is a passion.
Well-known for many years within IPLOCA, an association that has spanned 50 years, and to pipeline contractors around the world, Quereillahc was one of the founders of IPLOCA's Novel Construction Initiative. The Novel Initiative was to stimulate innovation in the technology and processes required for the execution of onshore pipeline projects, a mission to engage all contributors in the pipeline construction supply chain.
IPLOCA's wish through this initiative was to provide leadership and direction to the pipeline industry to enable development and delivery of improved technology, equipment and supporting processes. In support of the initiative, Quereillahc was involved with many project teams involved in skid-less methodology, camp and logistics, and pipe bending.
He was also a contributor to the book The Road to Success. This important work, which those in the industry are familiar with, provides the basic knowledge necessary to improve the delivery of a pipeline construction project, i.e., cost and schedule, while reducing the environmental footprint and achieving the desired safety objectives.
The book is in its third edition, with new chapters recently added, and a wide range of companies. Individuals from oil and gas investors and owners to design companies, construction contractors, suppliers and specialized subcontractors continue to collaborate in a series of technical meetings and discussions to maintain this as a "live" document intended for wide use in the pipeline Industry.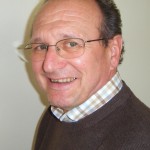 With such a long and varied career on so many varied projects and in so many countries, what has really stood out for Quereillahc? Well, he has been involved with some remarkable projects, including: the 48-inch Transalpine pipeline in 1966, 36-inch gas pipeline in West Texas in 1972 (full auto-weld), the first 36-inch gas pipeline to supply Russian gas to Italy (automatic welding) in 1973, 48-inch NIOC oil pipeline in Iraq in 1975, the Papua New Guinea oil pipeline for Chevron in1990, the Tchad Cameroun oil pipeline in 2002, and the Antamina slurry pipeline in Peru in 2004.
With an extensive career already behind him, it was in 2007, at the age of 61 – when some already are thinking of retirement – that Quereillahc opted for another career challenge, accepting the position of customer- solutions director for oil and gas with Volvo Construction Equipment (CE). Volvo at that time was just embarking on its pipelayer development project with its rotating pipelayer concept. Bringing with him a wealth of knowledge and experience, he said at that time, "I believe this rotating pipelayer design is the future." His opinion hasn't changed.
"Bernard's extensive knowledge of both the industry and contractors' equipment needs were hugely beneficial in helping to launch and commercialize the Volvo rotating pipelayer concept," said Lars-Inge Larsson, oil and gas solution manager at Volvo CE. "It is in no small way thanks to him, and the introductions he has been able to make, that Volvo pipelayers are now well-known and operational in many countries across all continents."
Full Circle
The first Volvo rotating pipelayer to be developed and commercialized, in 2008, was the PL4611, and Quereillahc was again in contact with Spiecapag working with these machines on the natural gas pipeline project in Papua New Guinea, a region with which he was, of course, already familiar.
With his home just a few kilometers away from the company's French headquarters in Colombes, just to the northwest of Paris, it's fair to say he has never been out of contact. Still, it is fitting that at the end of his career with Volvo CE, he should be in the port of Dunkirk alongside a Volvo PL4611 shipped back from Papua New Guinea to Spiecapag's depot there. His career really had come full circle.
Time for Other Passions
Unless Quereillahc intends to spend his vacation time visiting pipeline sites around the world and, let's face it, it's sufficiently in his blood to do so, it is now time to catch up on work that needs to be done on his vintage cars, his, long-term, personal passion. Secondary, of course, he plans to spend more time with his wife, Marisa, family and friends and perhaps still take the occasional trip to the snow-covered slopes.
Coming from a family of mechanics, going back some 200 years, he has always enjoyed restoring cars. He started with a 1921 Citroën C3 with his father and then rebuilt a 1923 Citroën B2 – a labor of love that took 12 years to complete. He is now finishing a 1931 Citroën C4.
In good weather he enjoys driving his small Porsche Boxster with his wife, and he still has another Citroën B2 to rebuild, so that will keep him busy for the next five years. While his cars may be demanding of love and affection, his time may well need to be allocated to his other passions, golf, gastronomy and wine tasting.
Whatever he elects to do, his commitment, enthusiasm and lifelong contribution to the pipeline industry will be sadly missed by all those who have known and had the pleasure of working with him during these last 52 years. Time out, Bernard. Enjoy! Whenever we think of pipelines, wherever they are in the world, we shall certainly think of you.
Written by Derrick Butterfield, Segment Communications, Volvo Construction Equipment, Germany
Related News
Related News
Sign up to Receive Our Newsletter
Pipeline Project Spotlight
Owner:
Phillips 66, Bridger Pipeline
Project:
Liberty Pipeline
Type:
Project includes construction of an oil pipeline from the Bakken and Rockies production areas to Corpus Christi, TX
Length:
~1,300 miles
Capacity:
350 Mbpd
Start:
NA
Completion:
4Q 2020